Interview: Doug Alfred on Madonna as a teenager
Interview: Doug Alfred sur Madonna en tant qu'adolescente.

Last Updated: February 24. 2008 1:00AM
From the archives: Feb. 28, 1992
I was Madonna's boyfriend
Doug Alfred's story as told to Susan Whitall
Susan Whitall / The Detroit News
Susan Whitall is The Detroit News' music critic.
Originally published Feb. 28, 1992 in The Detroit News.
With three trash biographies already in the stores, there doesn't seem to be much left of Madonna's image to tarnish. She even added to the barrage of unflattering revelations herself with last year's bare-all documentary, Truth or Dare.
Is there anything left to say about Madonna, any body part we haven't seen yet? Can mankind digest one more factoid about her, short of a report that she's entering a convent and taking a vow of celibacy?
A lone voice trickles down from the upper reaches of lower Michigan. It's one of those very masculine, no-nonsense, deep-woods kinds of voices peculiar to Michigan. The voice is talking . . . about Madonna.
"She was the sweetest, most devout Catholic girl you could ever meet." Huh?
The voice belongs to Doug Alfred, owner of Great Lakes Landscaping in Manistee, former Rochester resident, former Madonna boyfriend. Yes, he is in the same fraternity as guys like Sean Penn and Warren Beatty.
"Some of these people that get on TV and talk about her and write about her in these books -- I know most of the stuff did come out of Madonna's mouth," says Alfred. "On the other hand, a lot of the stuff isn't really factual or to the point. I think they're just feeding off her fame in order to get some ink. Most of the stuff that I've heard, I say, God, she wasn't like that, and I'm sure she isn't today."
Doug Alfred and Madonna Ciccone met at West Junior High School (now West Middle School) in Rochester, went together in seventh and eighth grades, and then saw each other off and on throughout high school.
If you're checking your Madonna cross-reference, no, Alfred is not the famous high school boyfriend with whom she first did the wild thing, in a Cadillac. That guy sold his story to a supermarket tabloid. We got Alfred's story for free.
Doug and Madonna were junior high sweethearts -- but let him tell his story. "I was a 'Johnny Jock,' big man on campus," Alfred says. "I was on the football and basketball teams, while she was on the other end of the spectrum, kind of -- not wild but wanting to have fun and not take school seriously. We met at a party in the seventh grade, and I remember spending the whole evening with her. That's where I first met her up close."
And oh, that scamp Madonna: Even as a preteen she was sending male hearts aflutter with midriff-bearing outfits -- an omen, perhaps, of the X-rated tour costumes that were to follow?
Endearingly, Alfred describes his ex in typical "guy" fashion -- his analysis would never be confused with that of a fashion show commentator.
Who was that girl?
"She was a good-looking girl, with long, curly, brunet hair," he says. "And she had that little mole on the side of her face that was just devastating to guys. She was dressed in a blue tank top and part of her skin was showing underneath the bottom, her belly button and everything.
"She had good looks, a little chubby maybe. She always did have baby fat on her, although she wasn't chunky. She was never the type who really worried about it, either -- she couldn't care less because she knew she was a good-looking girl with all the guys chasing after her.
"We just started talking; next thing I know we left the party and went for a walk in the subdivision. Then we went together for a while in junior high school, for all of seventh grade and a good part of the eighth grade, too."
And what does Madonna say about all of this?
Her longtime publicist Liz Rosenberg burst into laughter at the mention of a high-school boyfriend. "Oh, one of the many?" she quipped. But after checking with Madonna, Rosenberg says the singer confirms a boyfriend named Doug.
"Hey, if someone has anything good to say about me, I'm all for it," Madonna says. Rosenberg relates that Madonna "screamed" at Alfred's description of her as a "devout Catholic girl."
After all, even Madonna has said that, partly because of her advanced taste in clothing, she was considered "fast" by her classmates.
"Well that's sort of the reputation that she had," Alfred confirms. "She was good-looking for her age. Her breasts were very large for a seventh-grade girl. That's probably why they said that. I kissed her a lot. We were boyfriend and girlfriend, so that was only natural. Other students used to say she was loose and would be an easy score, but I never really found that to be true."
Although Madonna was having too much fun to hit the books in junior high, Alfred reports that she settled down later on.
School days
The Alfreds and the Ciccones lived in adjoining subdivisions in the Walton Boulevard/Livernois /Tienken area of Rochester. Because of the way the school boundaries fell after junior high, he went to Rochester High while Madonna went to Rochester Adams.
But they still kept in touch.
"Our relationship was ongoing all through high school," says Alfred. "A couple of times I had buddies in high school stop at her house. Or I'd go in and talk to her . . . (stepmother) and dad to see if she wanted to come out and do something, but she was usually never at home; she was out with her girlfriends.
"She would always come to the football games, and I'd be playing while she was cheering. She came to the basketball games, too."
Alfred often crashed Adams school dances with help from one of his buddies there. "But I would dance only with her," he reports. "If I went to an Adams dance, I'd go strictly to see her. At one point in the 11th grade she told me she had a boyfriend -- I can't remember the guy's name. But she said she was pretty serious, and so I said we could still be friends. That's why I didn't pay (strict) attention anymore (to whom she was seeing)."
A last encounter
Alfred's liaisons with Madonna became more and more infrequent as high school wore on. But there was one final, memorable meeting. It seems there was this grassy knoll ...
It was just after high school. He was sitting on a strip of grass at the Rochester Hills Plaza strip mall.
"She was riding up from town on her bike, and I hadn't seen her in a while. I called her over. We sat there and talked for a while about what we were going to do with our lives and so on, the sort of thing 18-year-olds talk about. I told her I was going into landscaping and wanted to own my own business. She wanted to go to school for dancing. I didn't even know she was into dancing.
I thought she'd do something in the medical field. She always liked to psychoanalyze people's heads. Sometimes when she looked at you, you could just feel that she was trying to get into your mind.
"But she said, 'Yeah, I'm going to get into dancing, but I'm kind of scared.' I said, 'There's nothing to be scared of, if that's what you want to do. God gave you the talent. God gave me the talent to be a landscaper, and I'm going to do it until the day I die.'
"Then she asked if I was going with anybody, and I said no. I asked her if she was, and she said no. I said, `Well, we'll have to get together before we start parting ways.' She said, `Yeah I'd like to do that.' But we didn't."
Alfred hasn't seen Madonna since. We all know what happened to her in the ensuing years; as for Alfred, he spent some time working on the East Coast, then came back to establish his business in Manistee eight years ago. He has a girlfriend and a quiet life.
Out of vogue
You could say he is sort of a Rip Van Winkle when it comes to Madonna lore, snoozing through the naughty lingerie, the Top 10 hits, the tabloid shenanigans with Sean Penn and Warren Beatty. Alfred has been happily oblivious to most pop culture while plying his trade in the quiet north woods.
"I'm not one of those wanting to keep up on things," he says simply. "I just do my job and then I come home and watch the news. I'm just a plain, ordinary person."
It was his younger sister who brought him up to speed on Madonna's superstar status.
"When she told me that, I went to the record store that weekend -- sure enough, there was a whole slot devoted to her! They had the white album in the slot, and I said, 'God, that is Madonna.' "
But even after finding out how big Madonna is, Alfred still keeps a low profile about his former squeeze. "It doesn't come up in conversation, and I don't really want to give out the information," he says. "I don't want to go around and brag about her; she does enough of that for herself.
"Myself, I've got more important things to worry about. My business, getting a house soon.
"But I just wanted to say, hey, she isn't what you see up there. She has a warm side to her. Well, I don't know, maybe not now . . . but she did then. She had a good heart; she came from a good family. She just had ambition. All-out drive and ambition."
Source: The Detroit News.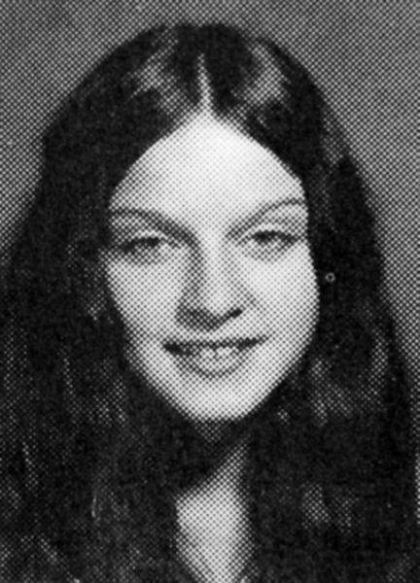 Madonna, class of 1972, at West Middle School in Rochester.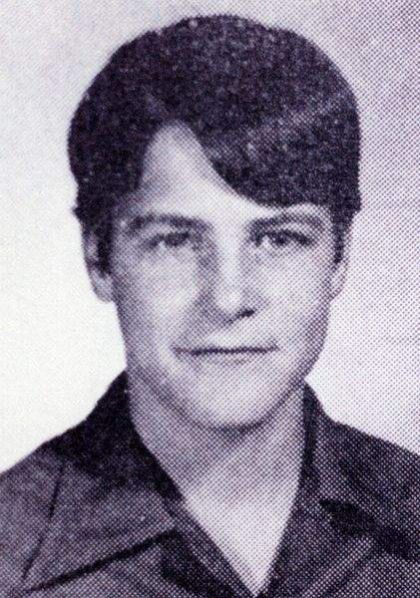 Doug Alfred in the seventh grade.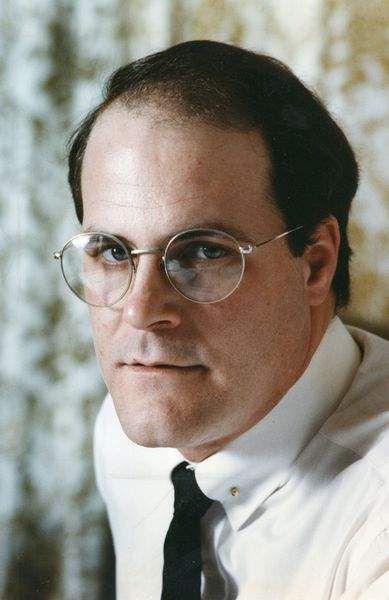 Doug Alfred in 1992.
Photo: George Gryzenia.