Interview: Gwyneth Paltrow's complaints about Madonna
Interview: Gwyneth Paltrow se plaint de Madonna.

Gwyneth Paltrow's complaints about the material girl
Gwyneth reveals why she's 'feeling pretty angry right now'
Posted by Hadley Freeman
Thursday 8 April 2010 21.00 BST
The Guardian
This column has always believed that there is no better way for a celebrity to prove that she really is as deep, intelligent and, like, centred as she claims than by taking off her clothes for a magazine shoot and bitching about a friend.
And, oh, what a coincidence, here's Vogue's interview with Gwyneth Paltrow in which Gwynnie manages to come across as even more smug than her public image suggests, banging on about how great it is to be Gwyneth Paltrow. And all readers who guessed that Gwyneth concedes in the interview that, yes, she does have a fault and it's that she's perfect, sorry, I mean "a perfectionist", congratulations, a Tracy Anderson DVD is on its way to you.
Is such a personality born or made? Well, Lost in Showbiz attended a rival school to Gwyneth's alma mater, Spence (which Vogue most incorrectly describes as "the toniest [snootiest] school in New York"), and thus is very au fait with the world of Paltrow's formative years. Indeed, when she announces with a "laugh" (cackle, surely), "I can be mean. I can cave in to gossip, I can ice people out," well, this interview became LiS's Proustian madeleine, with some pungent memories of the old school bus coming back. Similarly, some might be wary of picking a fight with "my-friend-Madonna". Not a Spence girl. Gwyneth complains about how Madonna, "keeps people waiting – it takes up your whole day . . . It was too much", and then mentions cryptically – classic Spence strategy – "I'm having a situation right now with a friend where I'm feeling pretty angry. But revenge doesn't make me feel good." Whereas bitching in a magazine interview, of course, does. Oh yes, Gwyneth Paltrow: I know you.
Source: The Guardian.

Gwyneth Paltrow says she can be mean
Posted on April 6, 2010
Gwyneth Paltrow graces the cover of May's UK Vogue and has been telling the magazine that she's not as nice as people think.
The actress known as Hollywood's Sweetheart said, "Oh yes, I can be mean. I can cave in to gossip. I can ice people out and I can definitely harbour revenge."
"In fact, I'm having a situation right now with a friend where I'm feeling angry. But revenge is corrosive. I'll wake up in the morning and think, 'Ugh, I feel terrible', and suddenly realise, 'Ah, that's why. I'm holding on to so much hate'."
I wouldn't want to get on her bad side. She has very strong arms.
Source: Osoblog.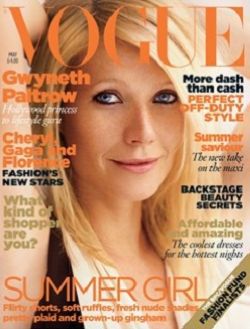 Vogue UK - May 2010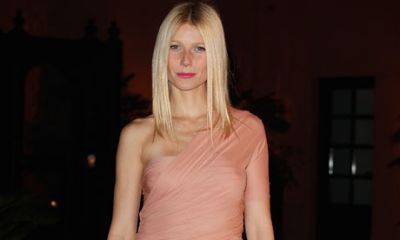 Gwyneth complains that Madonna 'keeps people waiting'.
Photo: Fizcairn/WireImage.