Interview with Nile Rodgers, Madonna's ''Like A Virgin'' producer
Interview de Nile Rodgers, producteur de "Like A Virgin" de Madonna.

Nile Rodgers: 'Your music is your soul'
Producer and Chic mastermind Nile Rodgers tells Paul Lester about jamming with Hendrix, flatlining after a cocaine binge with Mickey Rourke and walking on 'Planet C'
Paul Lester
The Guardian, Friday 8 April 2011
'It has been a very serious struggle," says Nile Rodgers of Chic, when asked how he is doing. It's not the usual reply to a politely formulaic question, but Rodgers has good reason for his answer. He was diagnosed with an aggressive form of prostate cancer in October 2010 and has since endured radical surgery to remove it. He admits that he was "in denial" when his doctor broke the news. "I was being so nonchalant about it. Then finally it hit me how severe it was. I think because I'm generally upbeat I tried to pretend like I wasn't bothered."
That's instead of the usual product plug, and Rodgers has good reason to plug his product – a four-CD box set containing some of the most influential and beautiful music of the last 35 years, hits such as I Want Your Love, Le Freak, My Forbidden Lover and Good Times, Sister Sledge's Chic-penned Lost in Music, We Are Family and He's the Greatest Dancer, Sheila & B Devotion's Spacer and Diana Ross's Upside Down and I'm Coming Out.
It was during a show with Earth Wind & Fire that Rodgers, a self-confessed workaholic, began to display signs that his system was shutting down. "I had a sort of, not a nervous breakdown, but all of a sudden I couldn't play guitar any more – I had muscle weakness. I guess that was my reaction to [the cancer]. My body said: 'There's something wrong here, pal, and you need to recognise it.'"
Since the surgery, he has been diagnosed cancer-free – he announced a clean bill of health on Twitter recently. He's now in what he calls the "post-operative recuperation period". The pain has subsided and he's feeling optimistic – helped, he says, by the blog he's been writing, Walking on Planet C. "I have to be honest with you," he says, "there are a lot of emotions that you can't control. You really do feel sad, and afraid. That's what I now deem 'crazy cancer thoughts' in my blog." He says he feels more comfortable writing about it than talking about it. "When I talk about it, I get nervous, but when I write about it, I can stand outside myself and be like a person telling a story. I haven't had one bout of panic writing about it. But when I talk about it, even to friends, I get tongue-tied, my mouth goes dry, and I get scared."
In a way, Rodgers has managed to deal with his illness because it is just one of many difficulties he's had to overcome. It can't have been easy discovering, for example, that his mother was just 14 when she gave birth to him in a taxi careening across New York's East river, nor that she ended up in a reform school for her sins.
(...)
Rodgers has good reason to declare: "My life was really interesting before Chic." He worked at an airport in Los Angeles cleaning private jets for the likes of Frank Sinatra. Years later, when he was the world's hottest producer, on the back of collaborations with David Bowie (Let's Dance) and Madonna (Like A Virgin), he lent Sinatra and Sinatra's then-producer Quincy Jones some equipment. "Man," Sinatra said to him, remembering the pop-obsessed kid from LA, "you really took this music thing seriously!" Back in New York, there was a strange night when, holed up in a loft in Greenwich Village, avoiding a snowstorm with some musician friends, he met Jimi Hendrix and, "high on acid", they jammed for hours. Rodgers was 16.
(...)
Between 1977 and 1983, they were hugely prolific, churning out seven Chic albums as well as two for Sister Sledge, one for Diana Ross (the biggest of her career), another for Debbie Harry, and one for an obscure French outfit called Sheila & B Devotion that proved they could apply the Chic magic to anyone, even if, as Rodgers points out, the latter was achieved with music that had more in common with new wave than disco.
"That was us discovering Devo," he says. "We loved what Kraftwerk and Moroder were doing – we were mimicking those sequenced rhythms with real playing." Back in 1979, he and Edwards were warning Blues & Soul magazine not to classify Chic as bluesy or soulful. No change there. "Trust me, the only real way to understand Chic is in hifalutin terms. Our chord progressions were based on European modal melodies. I made those early Chic records to impress my jazz friends. I would always say: 'Phew, I hope this passes the test of the jazz police!' Listen to I Want Your Love – that's straight out of the McCoy Tyner handbook."
Today's hi-tech R&B can be traced back to Chic, while hip-hop owes them an enormous debt of gratitude: not only was the first rap hit, Sugarhill Gang's Rapper's Delight, based on Good Times, but Chic are now the most sampled band in history. "We've officially overtaken James Brown," says Rodgers, who recently worked out that he has generated, via Chic's music, his productions for Bowie, Madonna, Mick Jagger, Duran, Bryan Ferry et al, and his more recent soundtracks for movies and computer games and TV adverts for Budweiser and Nike, $3bn.
(...)
Chic are now regarded as crucial members of that elite pantheon of 70s pop pioneers. But who should be in pole position? "Oh, man, come on," he replies. "That's like asking the president not to vote for themselves. I love those groups, but no one could love their own music more than me. It's impossible. It's your soul. It was more than we ever imagined it would be – and we had pretty good imaginations. It changed our lives. I am very rich because of Chic - artistically as well as spiritually. It's been an amazing life."
Nile Rodgers Presents The Chic Organization Box Set Vol 1/Savoir Faire is available now on Rhino.

Full interview here: interview with Nile Rodgers

Source: The Guardian.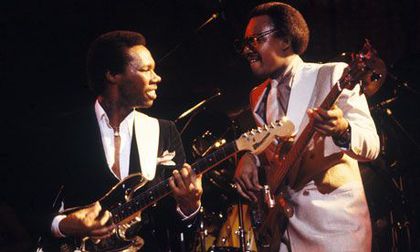 Nile Rodgers and Bernard Edwards of Chic at New York's Palladium in 1979.
Photo: Waring Abbott/Getty Images.

Read also:
Madonna in Nile Rodgers' compilation album ''Everybody Dance!''