Is Kylie Minogue a Kabbalah convert? NO
Kylie Minogue s'est-elle convertie à la Cabbale? NON.

Is Kylie a Kabbalah convert?
Daily Mail / Herald Sun / June 16, 2010 12:01AM
A STUNNING Kylie Minogue shows no signs of the treatment she is still having after her fight against breast cancer.
And she also seems to be seeking a little medicine for the soul.
The 42-year-old appears to be turning to Kabbalah after being spied wearing the religion's red string bracelet yesterday.
Her boyfriend, Spanish model Andres Velencoso, 32, is also believed to be interested in the mystical religion.
It is based on the teachings of Judaism and has attracted many celebrities including Madonna, Gwyneth Paltrow, Demi Moore and her husband Ashton Kutcher.
Kabbalah followers believe a red string worn on the left wrist helps stop negative energy entering the body and soul.
But many mainstream Jews see the religion as a perversion of Judaism's ancient traditions.
Minogue, born into a Catholic family, has worn the string bracelet for the past month and has also been to Kabbalah meetings.
A source said: "It seems that she is definitely interested in learning more about the religion."
She paired the bracelet with a red mini-dress as she arrived for a meeting in London yesterday.
The star continues to take medicine after being diagnosed with breast cancer five years ago.
She told the Sunday Times that the drugs make her put on weight, but she refuses to stop taking them until she has been cancer-free for five years.
Source: Herald Sun.

Kylie trying to get in on the acting game
Herald Sun June 17, 2010 12:00AM
KYLIE Minogue has revealed she wants to make a return to acting.
Minogue, who found fame on Neighbours more than 20 years ago, said she'd had several meetings with film industry movers and shakers.
"I've had a bunch of meetings, but the problem is I keep going on tour, which really throws a spanner in the works," Minogue told Fox FM yesterday. "I'd love to do films, it's just finding the time and the right project."
Since leaving Ramsay St in 1988, Minogue has continued to act occasionally, appearing in 1989 film The Delinquents, and briefly in TV shows including Doctor Who and Kath & Kim. She has also had roles in Moulin Rouge and Street Fighter.
But with the release of album Aphrodite it might be a while before Minogue, who heads to Melbourne next month for the birth of sister Dannii's first child, can pursue acting.
The singer yesterday dismissed rumours she had turned to Kabbalah, a mystical form of Judaism, after she was snapped wearing a red bracelet similar to those worn by followers.
"No, no, noooo . . .THIS is my BRACELET," Minogue tweeted alongside a close-up picture of the bracelet.
Source: Herald Sun.

From kylie minogue (kylieminogue) on Twitter:
No, no, noooo...THIS is my BRACELET!! http://twitpic.com/1wywp0
2:58 PM Jun 15th via Twitpic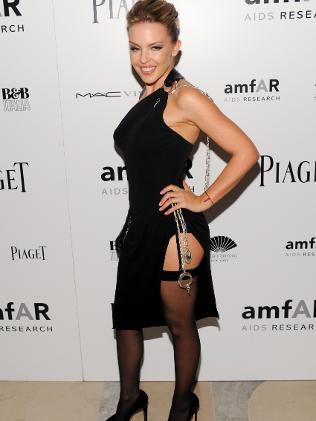 Singer Kylie Minogue has reportedly taken an interest in Kabbalah.
Photo: AP/Evan Agostini.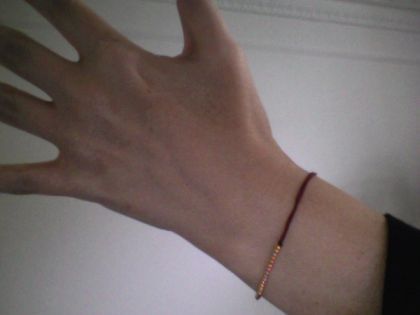 Kylie Minogue's bracelet.