James D'Arcy as Edward VIII in Madonna's ''W.E.''
James D'Arcy en Edward VIII dans "W.E." de Madonna.

Madonna Finds Her King In Brit D'arcy
04 June 2010 08:12
The Queen of Pop has found her king - MADONNA has cast Brit actor JAMES D'ARCY as KING EDWARD VIII in her upcoming royal biopic W.E.
The Material Girl is sitting in the director's chair for a second time to tell the story of the former British monarch, who abdicated the throne after falling in love with American divorcee Wallis Simpson.
The woman who rocked the royal family will be played by British actress Andrea Riseborough, best known for her TV portrayal of former U.K. Prime Minister Margaret Thatcher, while Aussie beauty Abbie Cornish will play a modern wife who compares herself to Wallis.
Now Madonna has chosen An American Haunting star D'Arcy to take on the role of King Edward.
Producer Colin Vaines says, "We've found the right cast for this picture. The addition of James is wonderful as he's got such charisma and possesses a regal quality that he can capture. There was a real chemistry between him and Andrea."
The pop superstar wrote the screenplay for the movie with Alek Keshishian, the man behind her revealing 1991 documentary In Bed With Madonna.
Source: Contactmusic News.

Watch out for...
By Baz Bamigboye
Last updated at 12:25 PM on 4th June 2010
James D'Arcy - who was in the film Master And Commander, TV drama The Ice House and played Gaveston in Michael Grandage's production of Edward II - will take on Edward VIII for Madonna in her film W.E. about the romance between the King and Mrs Simpson.
Andrea Riseborough will portray Wallis, and Abbie Cornish and Oscar Isaacs also star.
Source: Mail Online.

James D'Arcy cast in Madonna's 'W.E.'
Friday, June 4 2010, 15:23 BST
By Simon Reynolds, Movies Editor
Madonna has recruited British actor James D'Arcy to star in her next directorial venture W.E., says Variety.
D'Arcy, whose credits include Revelation, Master And Commander and Flashbacks Of A Fool, will play King Edward VIII in the drama. Andrea Riseborough, Abbie Cornish and Oscar Isaac are also confirmed for the cast.
The movie features two love stories: in the present Cornish's Wally romances a Russian security guard who works at Sotheby's, while in the past the king abdicates the throne to marry American socialite Wallis Simpson.
Madonna recently told Interview of the project: "The Duke and Duchess of Windsor are in the movie, but it's not going to be about them. It's really about this other woman's journey, and the Duchess is kind of her spiritual guide.
"It's set mostly in pre-World War II England-like, 1936 to 1937-and then in New York in 1998. It goes back and forth in time. I use the Sotheby's auction in 1998 of the Duke and Duchess of Windsor's estate as a device to flash backward from."
Source: Digital Spy.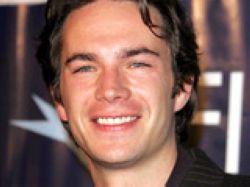 James D'Arcy