James Kaliardos: My Tip From Madonna
James Kaliardos: Mon conseil de Madonna.

Hot tips for lips... from the world's top make-up artists
By Elsa Mcalonan
Last updated at 10:16 AM on 3rd March 2011
If you try only one new thing this month, make it a bright new lipstick — it's all the rage on the catwalks. Choosing the right shade and getting it to stay on isn't easy, so here the world's top celebrity make-up artists share their tips.
JAMES KALIARDOS
Celebrity make-up artist who works with Madonna, Linda Evangelista, Julianne Moore and Michelle Williams. He is L'Oreal Paris's international make-up artist.
CHOOSE AN ENERGISING COLOUR
Colour is important and can put you in a good mood all day. If you are short of time to do your make-up in the morning, just make sure you apply a bright lipstick. Red looks great — as does a bright pink or a coral. I prefer deep, pure reds with no trace of pink in them.
For instant energy, try L'Oreal Paris's new Colour Riche Made For Me Intense in 373 Magnetic Coral, £8.16 (Boots). The colour lives up to its name — it is highly pigmented and has a matte, flat finish. This makes your face look alive, even if you are not wearing any other make-up.
MY TIP FROM MADONNA
I got a great tip from Madonna, who taught me to use a short-haired rounded brush for applying lip colour (previously I had always used a long, retractable brush) for an intense finish. MAC has some great short-haired brushes (316 Lip Brush, £15, maccosmetics.co.uk).
TONING IT DOWN
If you are worried about colour being too bright, apply neutral colour to the lips first by applying a light covering of foundation to the lips.
It will neutralise the natural lip colour and will help the colour last longer.
Also add a touch of powder.
Source: Mail Online.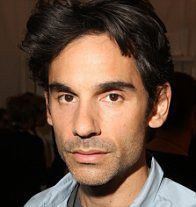 James Kaliardos
James Kaliardos works with Madonna, Linda Evangelista, Julianne Moore and Michelle Williams.