Jamie King on Madonna for Super Bowl: ''expect the unexpected''

Jamie King sur Madonna pour le Super Bowl: "attendez-vous à de l'inattendu".
Verona native to direct Super Bowl halftime show
GAYLE WORLAND | Wisconsin State Journal
madison.com | Posted: Saturday, January 28, 2012 6:00 pm

As tens of millions watch Madonna take the stage at the Super Bowl halftime show next Sunday, Jamie King expects to be in a production truck near the field watching the spectacle — his spectacle — unfold on video monitors.
It's the sort of intense, behind-the-scenes experience that King's extraordinary career is built on. In the 24 years since he taught himself to dance by watching MTV in the basement of the Verona home where he grew up, King has choreographed the onstage moves and designed the tour extravaganzas of the world's pop megastars.
Prince. Britney Spears. Ricky Martin. Celine Dion. The Spice Girls. Pink. Rihanna. Michael Jackson.
And in a career full of apexes, 2012 promises even greater heights. Though this is his third Super Bowl (he appeared as a dancer with Michael Jackson in 1993 and choreographed Diana Ross' halftime show three years later), it's his first as a director — a no-brainer, since he's been Madonna's creative director for well over a decade.
The multimedia tribute spectacular "Michael Jackson THE IMMORTAL" he created for Cirque du Soleil has just embarked on a 40-city North American tour, and "Q'Viva! The Chosen," a TV collaboration with Jennifer Lopez, Marc Anthony and "American Idol" creator Simon Fuller, premiered Saturday night on Univision and Latin networks around the world.
"I love that I am from Wisconsin. I love that that's where I was raised. I think that it's really the thing that's been able to keep me grounded and humbled and true to who I am," King, 40, explained from Los Angeles last week in transit to the "Q'Viva!" set.
"I never really get caught up in the hoopla of what entertainment can be. I've always been very focused on work. For me it's always about the work, nothing else."
What can he reveal about the Super Bowl halftime show?
"Oh, that's not fair," he said, laughing. "Well, it is Madonna, so expect the unexpected, right? In our 16 years of working together, we like to make people 'wait' for it."
King grew up in an unassuming Verona neighborhood, ran track at school and worked loads of jobs as a teenager. The splashy dance videos on MTV became a passion; his mom lined his bedroom wall with dance mirrors and tiled the floor in black and white. Up went posters of his idols: Prince, Madonna, Michael Jackson. King spent countless hours perfecting the dance moves he saw on TV.
"It was not the norm to be a boy dancing in Wisconsin," said King, who worked before and after school, squirreling away his money. "I didn't know what it was (for) exactly — but that came to me later."
King's magic? Capturing the essence of an individual performer, then cementing the bond between pop star and fan by creating a blockbuster concert experience that actually feel intimate, critics say.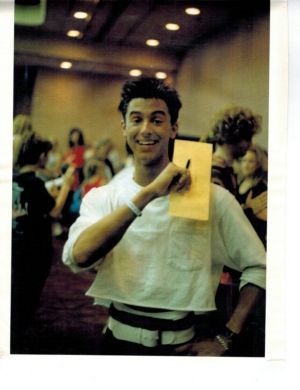 Jamie King's Madison dance teacher took this photo of the jubilant 18-year-old just after King won a dance scholarship at the Tremaine Dance Convention in Las Vegas in 1990. "That convention," King said recently, "is what changed my life."
Photo: Sharon Butler.