Jamie King on Madonna for Super Bowl: ''There'll be some magic''
Jamie King sur Madonna au Super Bowl: "Il y aura de la magie".
Jamie King has got the moves
From a young age, he studied Michael Jackson's steps, a legacy he preserves in 'The Immortal.' He's also helping Madonna generate heat at the Super Bowl.
By Jean Lenihan, Special to the Los Angeles Times
January 22, 2012
In a dark booth at the Polo Lounge, just down the street from his Beverly Hills home, tour director extraordinaire Jamie King struggles to recall the day he hung up his dance shoes for good. Though his management badly wants this interview to stay on the topic of his current feats as the director-writer of the Cirque du Soleil/Michael Jackson tribute world tour, "The Immortal" (Tuesday and Wednesday at the Honda Center and Friday through Jan. 29 at Staples Center), as well as his stint directing Madonna's heat-seeking Super Bowl performance (Feb. 5), and please don't forget the start of his Latin American "Idol"-esque TV series with Jennifer Lopez and Mark Anthony called "Q'Viva!" (premiering this month on Univision and later in spring on Fox), the affable King is giggling as he tries to remember exactly who was the last artist he danced for. He was neither injured nor burnt out at the time — he'd just become increasingly consumed with one-off choreographing and directing projects.
"Madonna!" he says, finally. "It was her. She wanted me to dance in her 'Human Nature' video. I didn't want to do it, but she begged." In the 1995 cult-favorite music video, a cat-suited Madonna sports a frisky S&M attitude in a realm of white-on-white boxes. King, then a spiky blond, hangs upside-down from a swinging trapeze in the scene, among other things.
A talk with King this month made Madonna's pleas easy to understand. At 39, he is broad-shouldered and warm, with a soft Midwestern twang. It's hard at first glance to reconcile this large, solid presence with his amazingly fast dance technique. Nor can one immediately see — as he gently cuts his pizza after a nonstop day of meetings on "Q'Viva!" — the stubborn, steely will that was needed to catapult him from dancer to choreographer to tour director by age 27.
Since 1999, he's directed Ricky Martin (two tours), Rihanna (three), Britney Spears (three) and Christina Aguilera (two), among others. And don't forget Madonna, whose last three stratospheric tours he conceived and directed. His trademark? Dream-like tours that feel born from the artist's forehead, not his.
"If you can make it all — and that means the stage moves, the choreography, the costumes, the lighting — be a reflection of that artist, you've done your job correctly," he says. "Because the fans will really understand the show."
King prefers invisibility in his public life too. He keeps a low profile and has embarked on only one clunky self-promotional endeavor (a 2007 dance-exercise tape called "Rock Your Body" that's proven too tricky for mass popularity). In the past, he's acknowledged a relationship with the Beverly Hills Kabbalah Centre, where Madonna attends, but when asked if his close circle is made up of A-listers he's fast to say, "No! I do that all day long!" Later, when he removes his dark sweater, a vintage Cartier key can be seen hanging from his neck. When prodded, he will say it was a special Christmas gift — but not from whom — and shyly demonstrate how its teeth spell L-O-V-E.
(...)
After the 17-month Jackson tour, King was comfortable with and interested in all aspects of stage production. Working with musical directors, lighting and stage designers, wardrobe, jumbo screens, pyrotechnics, moving sets, he wanted to choreograph it all, and honed his craft working for Prince for several years. Then in 1999, garnering attention for his carnivalesque design for Ricky Martin's Grammy Awards appearance, King was hired to direct the singer's first U.S. tour. After Madonna caught Martin's show one night, King explains, she asked him to help her launch her first tour after an eight-year hiatus. And the rest — disco-ball entrances, mechanical horses, roller-skate mania — is history.
"From when the lights go down, or when the lights come on, to when the screens open or the screens come up, and how that moves with the set pieces coming on or the dancers arriving, I see it all in a dance way," King explains. He sips an iced tea between words. "One of my biggest dislikes is when those elements are not working together. I get very uncomfortable. I like it all to move and flow together and make sense, like theater."
Cirque du Soleil spokesman Maxime Charbonneau says King's background with rock tours and Jackson himself made him the easy choice to help the entertainment company in its first attempt to fill 10,000-seat arenas (and not wall off portions to retain intimacy). For King, who was used to working so incisively as to move from a shoe box concept to world tour in several months, Cirque's initial open-ended creative period was unsettling. "They like to just throw things at you left and right and see what you respond to," King explains. "They say it's 'feeding' — they like to 'feed' you and wait while you chew on it."
(...)
Next month, even more of King's oversize movement collaborations with Cirque du Soleil performers and crew will be visible during Madonna's high-exposure Super Bowl performance. "There'll be some magic," he says slyly.

Read the full interview here: Jamie King has got the moves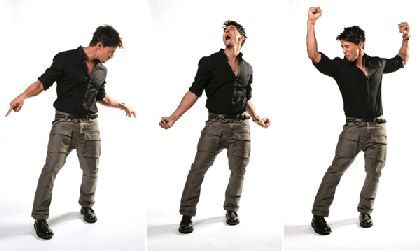 Jamie King
Photo: Ricardo DeAratanha / Los Angeles Times.