Jaron 'Prince Jron' Boyd on touring with Madonna and passion for dance
Jaron 'Prince Jron' Boyd sur la tournée avec Madonna et sa passion pour la danse.

A Dancing King Recalls His Chicago Heights Roots
Jaron Boyd explains how his dance group, the FootworKINGz…
By Mary Compton | 29/04/2011 12:00 PM
Jaron Boyd explains how his dance group, the FootworKINGz, ended up on a world tour with Madonna.
On the east side of Chicago Heights, boarded-up homes and abandoned steel factories were the backdrop for a young street dancer named Jaron Boyd.
This day, the horn of a train rolling alongside East End Avenue temporarily drowns out a house remix as Boyd shows off his "FootworKing" moves on 15th Street.
Jaron is on a short break from doing music videos and touring. He has been on the road with Madonna and worked with a group of younger FootworKINGz that appeared on America's Got Talent. The dancer has evolved into an inspiration to kids in his hometown.
How did he get to this point? This is his story.
Born to Dance
Jaron explains his humble beginnings.
I used to play around and dance at family gatherings. I wanted attention. I used to pretend I was James Brown or Michael Jackson just to get the family to laugh at me. I never had any dance experience. I was into art and basketball in high school.
Passion For Dance
Growing up in Chicago Heights for me was the most fun time in my life. I remember being outside when I was young. Every day I would be out in front of the house dancing. The police would ride past, just checking to see what we were doing. They would see that we were dancing and not selling drugs. We would always be out dancing.
Something New
Jaron goes on to explain how in one day his whole plan for the future changed.
It was my senior year. I had received scholarships for art and basketball. One day in the lunch room, I saw this circle and I saw everyone swarm around to watch. I thought a fight was going on. Then I noticed they were moving so fast. They were dancing. I could see the passion that these two guys had, they were competing to see who was better . . . After they finished dancing, everyone was going crazy. The bell rung, so everyone had to break it up.
I quickly went up to my friend, who was dancing. I asked him, "What is that called?" and he said "footworking."
He told me he would teach me a little something each day, but it takes time to learn. So, after that, when we had free time, he taught me one move, one step, each day. We would finish our homework. He would go over fundamentals, which were basic steps. Each day I learned a new step.
Finally, a month went by, he took me to my first party. It was called "King of the Circle." The King of the Circle is a big dance tournament that is once a year in August. All footworkers from all over, the South Side, West Side, all over Chicago, came to compete.
That was my first time, watching who was the top for that year; who was the best. Going to the King of the Circle was a good source for me to view the different styles, just the goal source of it. The lights were dim, it was grimy with the floors being real dirty, it had an atmosphere of a battlefield. You watch them dance.
All eyes are on them.
What is Footworking?
Jaron explains his craft.
South Side footworking is mostly lower body. The West Side is more upper body dance, like hip rolling a lot of moves incorporated with the upper body. Each part of Chicago has (its) own style of Footwork.
Overtime, when the music sped up, more footwork got incorporated into the dance, from tap to swing to African, like James Brown. It is all types of dance mixed together at a high tempo. It has foundational steps, but it's free because it's street dance.
Gaining Ground
Jaron spoke about the pivotal year for him and his dance group.
I quickly started my own group. The steps that I learned, I taught my friends that I played basketball with. What I did was take my childhood friends and taught them the way I was taught, a little step each day. They started to get really good.
Robert, Lester and Pierre, we called ourselves "Havoc." Our group had its own style because we didn't have a background in dance. Our group was able to express their own individuality. We started doing shows in Chicago Heights at the Jones Memorial Center. This was a place we all used to meet and play basketball and hang out after school. That was our meeting spot, the place to go ever since we were children, elementary through high school. There were always adult mentors their teaching us responsibility, etiquette and much more.
Now, we would use the Jones Center as a practice spot. That summer the Jones Center had a kids program, so we performed for them. We went from there performing together to Markham Skating Rink. That's another location where Footwork groups go to battle. We wanted to test our skills because we were only used to performing with each other. We never had a chance to test our skills against other groups.
That was about to change. My cousin is a DJ at the Markham Skating Rink. He made us our own personal group track, (called) "Havoc." So, in the beat you'll hear Havoc in the track. At that time you had to be really known and good to get your name track played at the party. When we went to the skating rink, the DJ played our track. People began to watch and ask 'who is that?' We went and started dancing. After that night we gained respect.
We started getting members because a lot of Footwork groups were breaking up. We began breaking off and started going to Chicago and the west suburbs. We started expanding, it brought us up north and we met Lady Soul. She ended up being my manager. Lady Soul came up with the idea of starting Chicago FootworKingz.
A lot of people were not used to the idea that others would be interested to see footworking outside Chicago. Lady Soul did. We began doing shows for festivals and over time we got signed to an agency, which gave us job offers and auditions. I was 19 years old at the time.
Auditioning for Madonna
Jaron talks about the 2 a.m. wake up call.
The agency asked my manager if we could try out for a Madonna audition. Lady Soul called me up and asked me to do an audition for Madonna in L.A. I said "Oh yeah! When is it?" This was 2 a.m. She said we would leave at 7 a.m. that morning. So we met at the airport, two other FootworKINGz, one was King Charles. He had the flu, but still went. T.J. – he's from the West Side – went also. They had been practicing a routine that I didn't know, so I was going to freestyle.
We went to Los Angeles. Nobody knew what we were about to do. It was a three-day process.
The first day was specialty dance, where we did our own thing. The second day we had to learn choreography. I always did footwork. Me learning another style of dance was new to me. I never did that before, especially in front of mirrors. Learning how to do hip hop in the mirrors was like third world to me. They saw we were not as good as the others, but they saw it was good enough. We passed the second day.
On the third day, Madonna came to check it out. We did our specialty and the choreography in front of her. Our whole goal was to show her footworking. We did not have any intentions of getting picked. We just wanted to come back home and tell veryone we did footworking in front of Madonna. We wanted her to see it. We wanted to showcase it.
She saw us dance and then told us, "I think you guys have been practicing to my music."
Me, personally, I told her, 'but I didn't know all of your songs.' For us, footworking was 160 beats per minute. Dancing to her songs was much slower. For us it was dancing in slow motion.
She thought we practiced to every one of her songs, because she told us we were hitting all the notes. When we told her we didn't practice to her songs, she stood up and told the studio to play an unreleased song at the time.
Madonna said, "This way I'll know if you guys are telling the truth. I am playing a song nobody has ever heard before. I'm going to see if you guys can dance to every beat on this song. There is no way you guys could have practiced to this one."
At the time the song was Give It to Me. Madonna then counted us down, told everyone in the studio she did not want to see anyone else but the jukers. That's what she called us, instead of saying footworkers, she said jukers from Chicago.
She counted us down.
When she was getting the music ready, King Charles reminded me of an old FootworKing routine we did when we first started. We decided to do that. When Madonna counted us down, all three of us did the old routine. It was to every beat. The routine went perfect with her unreleased song. Everybody in the studio was clapping.
Right then she said "I want you guys to perform Give it to Me."
You could tell she liked it; it wasn't a definite yes and it wasn't a definite no. We were put on a waiting list. We went home and told everyone we made it to the last day.
The Announcement
Time went on. Months passed. The next year we were doing a show in New York. After our performance, our manager went onstage and announced to the audience, "I want to take this time out and congratulate King Charles and Prince Jron for making the Madonna tour."
I was like "what?" I looked at Charles, he was as surprised as I was. Our manager knew but wanted to surprise us at the show.
After the New York show, a few months later the promoters had to get tour dates in order. A few months later we left to go to the rehearsals. It was a month of rehearsals before we did the first show. Madonna wanted to make sure everything was neat, clean and presentable for the show.
It was my first time doing a concert, so we had to get the kinks out. Everyone had to be at the same level, being on the big stage like that. It was only a promo tour; just three shows New York, Paris and Kent. We did those three shows.
The stage was big and so was the crowd. I then imagined what a world tour would be like; three times bigger, the crowd 20 times bigger. I kept thinking I was happy just to make the promo tour.
It was at that moment, where I felt like we did it.
The Test
Jaron explains one of the times they were put to "the test."
The day before the last promo show, we were rehearsing. Madonna came up and said she was giving Chicago dancers a new song. We just rehearsed Give It to Me. Madonna said she wanted us to do another song called Miles Away.
I thought, "The concert is tomorrow!"
We had to make up a routine and stage it within a few hours. Then I heard Madonna tell the crew "I know they can do it. I believe in them."
Right after she said that it was time for rehearsal to end. What were we going to do? On the car ride from the rehearsal spot to the hotel, me and King Charles decided to practice all night at the hotel.
Once we got back to the hotel, we got a message saying Madonna wants everyone to meet in the lobby in an hour to attend a piano dinner. Oh no! That just took us (from making) up the new routine. We got to the piano dinner not being able to practice. I told King Charles, "We are here. We have to make up this routine."
Me and King Charles were in the corner at the dinner, talking on the new routine. By the time we got back to the hotel, it was 2:30 a.m. We took one hour to make up something. We had to get some sleep because the concert was later that day. We took to the stage with the new routine.
It came out perfect.
Madonna turned to us and said, "I can count on you for anything. You guys proved to me that I can count on you."
I told her "I was happy I proved it to you. I also proved it to myself as well."
The Call
After the promo tour, we went back home to Chicago Heights.
Months passed. Then we got the call we were going to be in Madonna's world tour, Sticky and Sweet in 2008. I would be gone for seven months.
We traveled to Mexico, Brazil, Europe and North America. We even got a chance to do our own segment in Madonna's show.
In the world tour me, Prince Jron, and King Charles got our own thing for about four minutes, while Madonna changed costumes. For her to trust us to entertain the crowd at that level . . . We did a song called "Die Another Day," which was a remix of juke music.
In that number, we footworked . . . King Charles and I were boxing each other. Using our lower body and upper body.
I never boxed before. King Charles and I had to learn how to box, to make it look real. We choreographed the footwork dance with the boxing.
It was an amazing experience. Going to each country, I took pictures and video. I wanted to share with my family everything that I saw. I wanted to suck it up like a sponge, the cultures, language and food. When I was on tour, my friends from Chicago Heights kept messaging me (about) how much I am inspiring them to live their dreams and to be better (people). I just want to set a good example for others, to conquer their dreams and live big goals.
Coming Home
King Charles and Prince Jron were called back for part two of the Sticky and Sweet tour, which made a stop in Chicago. Jaron explains his homecoming performance.
We came to Chicago and performed at the United Center. My mom and other family members came to the show. They got a chance to go backstage and meet Madonna.
She told my family, "This is my son. I take care of him."
I was so happy for them to see me perform on such a big stage. Charles's mom was there as well. It was an emotional show for us.
At every other show we didn't know anyone, Chicago was different, we had family out there supporting us. It was so good to be in Chicago. I have to come out (during) the first song to give Madonna her cane. Each show the crowd begins to scream. This show the screams sounded like a monster, so it really pumped me up. I was giving 200 percent the whole night. I wanted to make sure my family was proud, my mom was smiling the whole night.
That was one of the best nights of my life. My highlight night.
What's Next
Proud of what he has accomplished Jaron speaks of a what has passed and what comes next.
Barriers we have broke with our FootworKING culture . . . Myself and my dance partner, King Charles, both taught Madonna how to footwork while we were on tour. That was a big major breaking point to have the Queen of Pop doing footwork in front of thousands and thousands of people. She was doing our style of dance, showing the world our style of dance from Chicago.
After the tour, Prince Jron returned to Chicago Heights.
Every time I go out of town, I love coming back. This is where my memories are. I love coming back here because it always reminds me of where I came from. It fuels my motivation to keep going. I want to keep taking this to the next level.
When I'm home it's good to just stop and talk to some of the neighborhood kids. I let them know I'm from the same neighborhood. If they get high hopes they can conquer them as well.
I always tell them, "The sky ain't the limit. There is no limit."
I could see the change in the neighborhood, from when I was growing up. It looks like the neighborhood is going down the drain. Even though it looks like that, it's still filled with a lot of positive people here that have high talents.
I just want to tell people it only takes a talent to be seen once, and once it's seen, others see the passion in your heart. The rest is endless. If you have a dream, nothing should really stop you because of your environment.
Today
After the Madonna World Tour ended, King Charles and Jaron "Prince Jron" Boyd have been teaching footworking to cultures from across the globe.
The FootworKINGz official feature DVD titled "Take Flight" features Prince Jron and King Charles. Jaron speaks to young people about choices at a youth club in the Roseland neighborhood.
The young men are planning to move to Los Angeles in the next few months as they have been requested to show their style of dance in music videos. The backdrop for Prince Jron has again changed. Today the light of a new dance revolution has dawned on the FootworKINGz of Chicago Heights.
Source: Chicago Heights, IL Patch.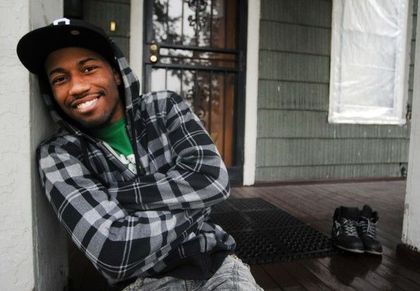 Jaron "Prince Jron" Boyd from Chicago Heights, relaxes on the porch of the house he grew up in and still lives on the East side of Chicago Heights. It was here he began to dance in the street with his friends, which brought him success.
Photo: Mary Compton.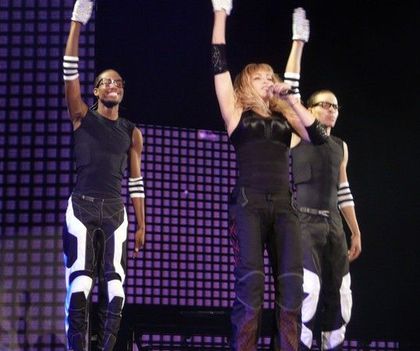 Jaron "Prince Jron" Boyd (left) along with his best friend Charles " King Charles" Parks both from Chicago Heights, dance with Madonna during her Sticky & Sweet tour. The young men taught Madonna how to dance Footwork. Both will be leaving for L.A. to do some work in music videos.
Photos: Jaron Boyd.