Jason Derulo: ''I'm about to work with Madonna''
Jason Derulo: "Je suis sur le point de travailler avec Madonna".

Exclusive: Jason Derulo to Work With Madonna!
Tuesday – March 23, 2010 – 12:07pm
By Ian Drew for UsMagazine.
Jason Derulo, who is no stranger now to storming the charts and working with powerhouse pop divas, is about to work with another legendary artist who is certainly familiar with the Top 10.
The rising R&B star, 21, just saw his first two singles off of his self-titled debut album hit the Billboard charts, has toured with fan Lady Gaga and this week nabbed the top spot in the Us Weekly Buzzometer. So what's next? He's on his way into the studio to work with Madonna! Derulo told our own Zach Johnson all about it plus other future plans (including his love life!) when he gave Us a ring the other day. Read on for more from Jason!
UsMagazine.com: I know that you recently toured with Lady Gaga. Can you tell us what experience was like?
JD: It was really awesome, man. It was my first time performing for thousands and thousands of people every day, so that was really, really cool. It was definitely an experience that was needed before I started my own tour, working out all the kinks and getting used to the tour life, being on a tour bus all the time. I feel like I'm living on a bus! Lady Gaga's as awesome offstage as she is on stage. She actually said something which was really, really cool. She looked me in my eyes and said, "Jason, I've worked with a lot of talented people, I've seen a lot of talented people, but you're special. You're star." That meant a lot coming from her.
Us: Especially since she's relatively new and has taken off like you have. How did it feel to be part of such a massive tour?
JD: It was great, but whenever someone would ask me which tour I would want to be on early on in the process, I said Lady Gaga. I guess I spoke it into existence because later on it actually happened.
Us: Are there any other artists you'd like to tour with or maybe collaborate with musically?
JD: Yeah. I'm about to work with Madonna, and I've been watching her for years. I would love to be a part of another reinvention. She's been able to reinvent herself time and time again. I'll probably be part of that.
Source: UsMagazine.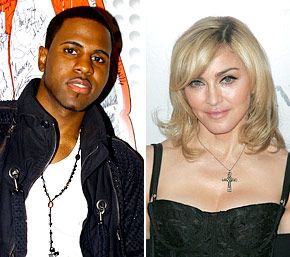 Jason Derulo and Madonna
Photos: Raymond Boyd/Michael Ochs Archives/Getty Images; Jim Spellman/WireImage.