Jay-Z envies Madonna's live production
Jay-Z envie la production des concerts de Madonna.

Jay-Z Inspired By DMX, Madonna & Daft Punk To make his live performances better…
12:48, Monday, 12 April 2010
Jay-Z has said he's made his live shows better by studying other artists, including those outside hip hop.
Speaking to the LA Times Jigga explained: "I look at Madonna's production and envy that. (And) Daft Punk's set."
And he admitted that it took him a while to become confident as a live performer. Jay said it was DMX who made him realise his faults.
He said: "My early years? Forget it. I was horrible. DMX tore me to pieces. I remember being stunned.
"[He] had me really working. But I had to figure this out. If you want to be a headliner, you better put on a headline show."
The rapper puts on headline shows at Wireless and the Isle Of Wight festivals this summer.
Source: MTV UK.

Jay-Z widens the festival tent
Jay-Z goes where rappers have not tread before: headlining Britain's rocker Glastonbury Festival two years ago and leading the way in Coachella this year.
By Chris Lee
April 11, 2010
Reporting from New York
As a measure of his post-Glastonbury clout, this year Jay will take his show on the road to such top-tier summer music fests as Tennessee's Bonnaroo Music & Arts Festival, the Summer Sonic Festival in Japan and Germany's Rock Am Ring, among others. And come Friday, Jay-Z arrives as the first straight-up rapper to claim a headlining berth at Southern California's crowning musical event: the Coachella Valley Music & Arts Festival in Indio. Others have graced the lineup -- Jurassic 5, Kool Keith, MURS, Kanye West and Aesop Rock, to name a few -- but none have done it at the top of the ticket.
"In hip-hop, there's not many great performers," Jay-Z acknowledged. "I look outside the genre, measuring myself against others. I look at Madonna's production and envy that. Daft Punk's set, I'm like, what the. . . . And I look at the way U2 can command an audience. Bono's a performer pretty much like I am. He's not a dancer; he's not jumping around. He's having a conversation. He's using his stillness as movement."
Source: Los Angeles Times.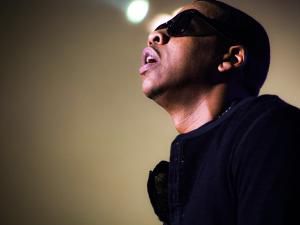 Jay-Z