Jean-Paul Gaultier on his first meeting with Madonna: ''I was a fan''
Jean-Paul Gaultier sur sa première rencontre avec Madonna: "J'étais un fan".

From The Sunday Times March 7, 2010
Jean-Paul Gaultier: bad to the bone
His conical bras and corsetry have influenced many of this season's designs, but former bad boy Jean-Paul Gaultier takes it as a compliment. And while he may not be a boy any more, he is definitely still bad
Giles Hattersley
Jean-Paul Gaultier is sitting at the kitchen table at his office in Paris, halfway through a rant about the craven relationship between fashion designers and Hollywood actresses. "Can you believe some people now pay zem to wear zee clothes for zee red carpet, it is absolutely hallucinating!"
Hallucinating? But before I have time to ask what he means, his personal chef plonks down a divine-looking creation of citrus fruit and sponge cake in front of him. Gaultier's eyes flicker, momentarily torn between his ideals and his pudding. The pudding wins. "Oh, zis cake," he shudders with pleasure, "it's like the fart of a nun."
Lunch with Gaultier is exactly as you'd imagine. Extremely haute, but also quite zany and fun. At 57, the not-so-enfant terrible of French fashion is having what fashion people like to call "a bit of a moment". Certainly, he's in an extra good mood today. The reviews for his couture show are in and are so outrageously flattering, they could have been written by his BFF. Then there's the fact that the Gaultier classics — underwear as outerwear, corsetry and (yes!) conical bras — were among the biggest influences on the catwalks this season. Marc Jacobs, for one, went nuts for it all.
All this suits Gaultier fine. Though he's dispensed with the bleach bottle, kilt and Breton shirts (horizontal stripes, so unforgiving) of his days presenting Eurotrash on Channel 4, the naughty, purse-lipped smile remains. As does the glam. I'd arrived an hour earlier to find him in a downstairs salon (20ft ceilings, elaborate cornicing), tweaking shoulders and fluffing skirts for models prowling the room.
The building, an old theatre 15 minutes' walk from the Gare du Nord, is very grown-up, more like a film set than a place to gulp down a Starbucks sandwich by your computer terminal. Sure enough, when lunchtime comes around, the two of us ascend to a kitchen and find a table laid with a linen cloth and a benevolent chef fussing away at a cooker in the corner. The smell of truffle oil is pleasantly overwhelming, while Gaultier's accent is still so buttery thick you wonder if it's some elaborate parody.
"I think it's like a compliment, non?" he says of the imitations turning up on catwalks. "The corset thing, it's good, I love that! Flattering." Are they ripping you off? "Non, when it's things you have done so long ago, when people still want to copy, it means it was that good."
And it must be nice to see all those early 1990s, Madonna-style boobs back in the world. How did they originally meet? "I was a fan," he says. "She made her first concert in Paris in 1987 or 1988, and there was a party after. I was intimidé, but she was first to arrive, waiting for everybody. She was like this always for 10 years, always on time but now... boof, finished! She is the last one," he laughs.
"Alors, she was super-cute, so I said to 'er, 'I would love to do something super-special for you.' She was like, 'Yeah, yeah, okay.' Then, two days before my show, I receive a phone call. They tell me it's Madonna, but I'm like, 'Yeah, yeah, okay, whatever.' I don't believe it's possible. But the next day I ask if it's true, and there is a number and I call and she answers and tells me to come to New York and we prepare for the tour."
So began a working relationship they've dipped in and out of for 20 years. A friendship also developed, though I suspect Gaultier retains a fan's fascination. "I went to a club with her and all the good-looking boys were looking, but not recognising her. She was so famous, they couldn't imagine she would be there, so they were cruising her."
However, his most hilarious Madonna memory relates to her wedding to Guy Ritchie in 2000. "He wore a kilt with nothing under," says Gaultier approvingly. How do you know? "I ask him, 'It's true?' He say, 'You see!'" he says, miming Ritchie whipping up his skirt. And was it...? "Well, I understood Madonna! Hahaha!" he cackles, then shouts in delight as a plate of fish and different pastel-coloured mashed potatoes is placed in front of him. "Très anglaises, les colours! Like zee English lady! The Queen Mother!"
At moments like this, you'd be forgiven for thinking him an eccentric or attention junkie, but Gaultier cries foul. "I'm not a real eccentric. I'm not so interested to dress myself, even. I like to project, to dream. I am not having a narcissistic part, I am admiring others." In fact, he sees himself more as a fan than a diva. "I still have my TV on all the time, the music videos, it is my radio," he says, before offering a paean of praise for Lady Gaga.
It's a hangover from youth, he thinks, when "my best friend was the TV". Actually, his childhood in a Parisian suburb was curious for exactly this reason. Bad at football and uninterested in school work, he had next to no friends and spent most of his time with his grandmother, watching telly or sketching showgirls and fashion plates. He got so good that, at 18, he became an apprentice at Pierre Cardin, launching his own line a mere six years later.
But the isolation of his youth still has an effect. He still doesn't socialise much, and rarely outside of his colleagues. One of the few exceptions is Martin Margiela, the celebrated fashion designer whose identity remains a mystery. "He worked for me before. He was my best assistant." Is Margiela your alter ego, I ask? "Ha! Non." Tell me one thing about him? "He's good-looking, and he is tall, maybe 190cm."
So you don't party so much these days? "For me, it is like work. I am shy," he says. "So, not to look shy, I speak like now. So you can imagine me at a party? Speak, speak, speak." With 125 staff, most of whom need to see him every day, he also values his quiet. Hence most interviewers paint him as a lonely sort, since he never talks about relationships and his first love, Francis, died from an Aids-related illness nearly 20 years ago.
But when he tells me he used to spend a lot of time in London in the mid-1990s, I ask if it was because he was seeing a guy there. "Yes," he replies. "A French Canadian." Are you seeing anyone now? "Yes." Since when? "For a while." Where's he from? "Greece." You live together? "Yes." Hardly Robert Browning in the gusher stakes, but I don't think we need worry about Gaultier wanting for love.
In fact, I don't think we need worry full stop. Raking in the dough from sales of his perfume, a critical hit once more, and the favoured couturier for Madge, Kylie and Nicole Kidman, middle age is a golden age for Gaultier. He says his trick is holding on to the dream he had when he was young. Clearly it's working, I think, as he bounces back to his studio for more fittings and fabulousness. He is the world's oldest boy.
Source: Times Online.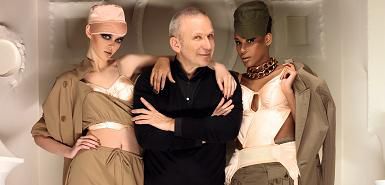 Tube trench, £1,735, satin corset and cap, price on request. Gabardine jacket, £1,036, matching skirt, £403, satin corset and cap, price on request. All by Jean Paul Gaultier.
Photo: Andrea Klarin.