Jess Donckers, the face of Madonna's new lingerie line 'Madonna Nude'
La belge Jess Donckers est le visage de la nouvelle ligne de lingerie 'Madonna Nude' de Madonna.

Tv-presentatrice Jess Donckers gezicht lingerielijn Madonna
6 augustus 2010
Jess Donckers, tv-presentratice bij GUNKtv, zal de nieuwe lingeriecollectie van Madonna vertegenwoordigen.
De nieuwe lingeriecollectie van Madonna, 'Madonna Nude', zal zich niet beperken tot Amerika, maar doet ook Europa aan. Bij ons wordt Jess Donckers het gezicht van de collectie. Ze zal 'Madonna Nude' gedurende minstens vijf jaar vertegenwoordigen.
Fan
"Ik was als klein meisje al een grote fan van Madonna, dus het is een hele eer om haar lingerielijn te mogen vertegenwoordigen," vertelt Donckers enthousiast. "De collectie heeft alles: ze is supersexy, stijlvol en speels tegelijk en is geschikt om zowel mét als zónder kleren te dragen. Er is veel oog voor afwerking en er zijn veel leuke accessoires, het is echt prachtig afgewerkt."
De fotoshoot voor de eerste collectie van 'Madonna Nude' vindt deze maand plaats. De collectie zal vanaf september verkrijgbaar zijn.
Source: She.

La présentatrice de télévision belge Jess Donckers est le visage de la ligne de lingerie de Madonna
6 août 2010
Jess Donckers, présentratice TV à GUNKtv, à la nouvelle collection de lingerie de Madonna.
La nouvelle collection de lingerie Madonna, 'Madonna Nu', se limitera pas à l'Amérique, mais également à l'Europe. Jess Donckers sera le visage de la collection. Elle sera 'Madonna Nue' pendant au moins cinq ans.
Fan
"J'étais comme une petite fille, j'ai été une grande fan de Madonna, donc c'est un grand honneur de représenter sa ligne de lingerie," dit l'heureuse Donckers. "La collection a tout: elle est très sexy, élégante et ludique en même temps et est adaptée pour les vêtements thermiques ou non. Il y a beaucoup d'attention pour la finition et il y a beaucoup d'accessoires amusants, c'est vraiment beau terminé."
La séance-photo pour la première collection de 'Madonna Nue' ce mois-ci. La collection sera disponible dès septembre.

Belgian TV presenter Jess Donckers is the face of Madonna's lingerie line
August 6, 2010
Jess Donckers, GUNKtv presenter, at the new collection of Madonna's lingerie.
The new collection of Madonna's lingerie, 'Madonna Nude ', will not confine itself to America, but also Europe. Jess Donckers will be the face of the collection. She will be 'Madonna Nude ' for at least five years.
Fan
"I was like a little girl, I've been a big fan of Madonna, so it's a great honour to be her lingerie line represent," says excited Donckers. "The collection has everything: it is very sexy, stylish and playful at the same time and is suitable for thermal wear clothes or not. There is a lot of attention for the finishion and there are many fun accessories, it's really beautiful finished."
The photo shoot for the first collection of 'Madonna Nude ' this month. The collection will be available from September.

Belgian Jess Donckers has been chosen to be the face of Madonna's lingerie line
Not long ago, Sexy Jess was a model for Playboy. "It is unbelieveable to see what is happening to me," said the Belgian beauty in "Show News". "I feel honored."
"The lingerie is sensual but wearable," she adds. "It's useful for everybody." Jess could not say if the Queen of Pop herself is going to be on the photoshoot of the sexy underwear.
The photoshoot is said to be taking place in late August, the photographer will be Frank De Mulder.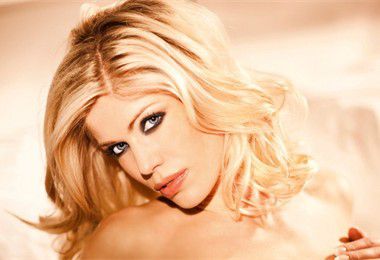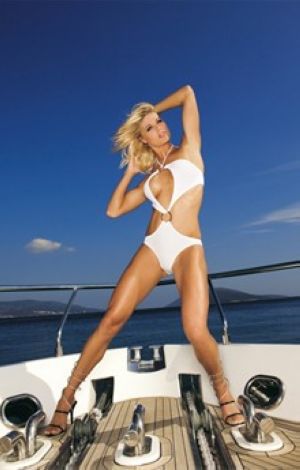 Jess Donckers