Jesus Luz's album produced in Portugal and video filmed in Lisbon
Album de Jesus Luz produit au Portugal et vidéo tournée à Lisbonne.

Álbum de Jesus Luz produzido em Portugal e vídeo rodado em Lisboa
por ANTÓNIO PEDRO PEREIRA
05 Março 2010
Possibilidade de Madonna vir assegurada no plano de segurança da organização
Jesus Luz virou-se para a música - tem já um single gravado e um álbum a caminho com produção portuguesa. O videoclip de promoção será gravado em Lisboa, segunda e terça-feiras. Mas a grande pergunta é: virá Madonna a Portugal acompanhar o namorado, que por cá ficará até ao dia 10? A simples questão, afinal, não é simples - e ninguém lhe responde cabalmente. Da última vez que se anunciou que a rainha da pop se juntaria ao namorado numa digressão, foram canceladas três actuações do manequim brasileiro, que hoje, já amanhã (a partir das 02.00 da manhã), põe música na discoteca 9elle Kapital.
"Ninguém sabe se ela vem", diz António Cunha, responsável pela edição discográfica do novo álbum do brasileiro, From the Light. "Nós nunca fizemos referência [à sua vinda]", acrescenta se o mistério seria estratégia de promoção. "Sim", responde, "temos preparado um plano de segurança para essa eventualidade". "Francamente, para mim não é nada conveniente que ela venha. Da última vez que apareceu, e foi no Carnaval do Rio, tiveram de cancelar três datas [de actuações dele]", defende-se o director da produtora Gold Brain.
Enquanto se discute a vontade do manequim e agora músico, de 23 anos, ir a Fátima, ele que chegou a Lisboa ontem de manhã e vai embora quarta-feira (dia 10), nos bastidores discute-se o plano de ataque ao álbum. "Está confirmado apenas que o videoclip será gravado na zona de Lisboa, segunda e terça", assegura António Cunha. "A equipa de produção será maioritariamente portuguesa, mas nem o nome ou nacionalidade do realizador ou a música, por haver mais duas possibilidades além de We came from the light, estão definidos", garante o produtor do álbum de Jesus Luz. Todas estas questões iam ser discutidas com os representantes do brasileiro numa reunião que se prolongou ontem pela noite dentro.
Source: Diario de Noticias.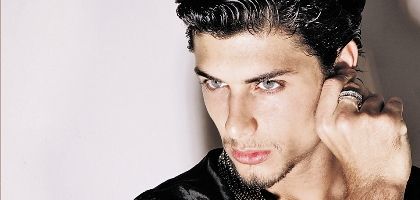 Jesus Luz