Jesus Luz with Steven Klein and Peterson Ibrahim in Rio, Brazil
Jesus Luz avec Steven Klein et Peterson Ibrahim à Rio, Brésil.

10/11/09 - 12h01 - Atualizado em 10/11/09 - 15h16
Jesus Luz aparece no terraço do hotel de Madonna
Modelo foi clicado no local onde fica a piscina do Fasano com o empresário Peterson Ibrahim e do fotógrafo Steven Klein
Do EGO, no Rio
Nesta terça, 9, o modelo Jesus Luz foi clicado no terraço do hotel Fasano, no Rio de Janeiro, onde está hospedado com a namorada, Madonna. Ele foi visto por volta das 11h45, acompanhado do empresário Peterson Ibrahim e do fotógrafo Steven Klein, mas sem a popstar. O fotógrafo, aliás, estava a cara de Jesus usando óculos espelhado, barba por fazer e um bonezinho.
Madonna está no Brasil desde segunda, 09, pela manhã, quando chegou no aeroporto de São Paulo e foi, de jatinho, para a capital carioca. Sem os filhos e na companhia do namorado brasileiro, a cantora se hospedou em Ipanema. À noite, foi a um restaurante japonês no bairro do Leblon com uma escolta de seguranças e policiais.
O motivo da viagem de Madonna ao Brasil não é música ou a família de Jesus Luz, como se tem especulado, mas sim causas humanitárias. Pelo menos foi isso o que ela disse à coluna "Page Six", do jornal "New York Post", "Estou indo para lá única e exclusivamente por assuntos humanitários e referentes à minha fundação". De acordo com a assessoria de comunicação do Palácio do Planalto, a popstar solicitou um encontro com a primeira-dama Marisa Letícia.
Source: EGO Globo.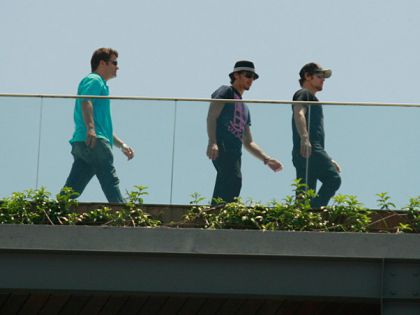 Peterson Ibrahim, Jesus Luz and Steven Klein