Joan Rivers mocks Madonna, calls her 'old' on Twitter
Joan Rivers se moque de Madonna, l'appelle 'vieille' sur Twitter.


Aug. 18, 2010 09:07 AM
Bang Showbiz
Joan Rivers has ridiculed Madonna on her twitter page for getting ''old''.
The 77-year-old comedienne attended the pop superstar's 52nd birthday party at London's exclusive Shoreditch House over the weekend and has now taken to her twitter page to mock her friend.
Joan jokingly wrote on twitter: "I was just thinking: Madonna sure is getting old. I should have taught her a new birthday game - "Pin The Tail On The Coroner." Next year"
The blond star also made fun of Madonna's multicultural family in another light-hearted post.
She cheekily tweeted: "I went to Madonna's birthday party. Wow! The cake had 52 candles on it, one for each child she's stolen from Africa."
Madonna - who turned 52 on Monday - has four children, 13-year-old daughter Lourdes, nine-year-old son Rocco and adopted pair Mercy, five, and David, four, both of whom are from Malawi.
Other guests at the 'Material Girl' singer's party included former 'Doctor Who' actress Billie Piper and her actor husband Laurence Fox, British TV presenter Claudia Winkleman, Madonna's daughter Lourdes and her Brazilian model boyfriend Jesus Luz.
Source: Az Central.

From Joan Rivers (Joan_Rivers) on Twitter:
I was just thinking: Madonna sure is getting old. I should have taught her a new birthday game--"Pin The Tail On The Coroner." Next year
5:15 PM Aug 18th via web
I went to Madonna's birthday party last night. Wow! The cake had 52 candles on it, one for each child she's stolen from Africa.
10:28 PM Aug 17th via web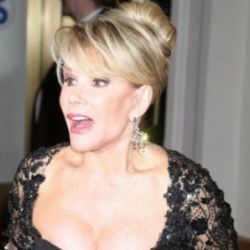 Joan Rivers