Jonathan Groff Will Be Featured on ''Glee'' Madonna Album
Jonathan Groff va figurer dans l'album Madonna de "Glee".

Jonathan Groff Will Be Featured on "Glee" Madonna Album; Series Will Go Gaga
By Adam Hetrick
01 Apr 2010
Oh my Gaga! Here we go, Gleeks: The creators of "Glee" have revealed the songs that will be part of the upcoming Lady Gaga and Madonna-themed episodes of the FOX series.
Creator Ryan Murphy told EW.com that Lea Michele will do a stripped down version of Gaga's "Poker Face" and the cast will unite for "Bad Romance."
EW.com also reports that the cast will also get decked out in costumes inspired by her outrageous fashions. "I do know that we're all different Lady Gagas, and at one point I am the Kermit the Frog Lady Gaga," Michele told EW. "I saw a picture of the Kermit the Frog Lady Gaga with a Post-It on it that said 'Lea.' I was like, oh, great. Everyone else has incredible Lady Gaga outfits and I have that one."
Also coming up is the all-Madonna episode of "Glee," which will be released as an EP on April 20. The digital-music service iTunes not only lists the songs that will be performed, but reveals that Michele's former Spring Awakening co-star Jonathan Groff (who guests on the series) performs in four of the numbers.
Here's the track listing for "The Power of Madonna":

"Express Yourself" (featuring Groff)
"Borderline/Open Your Heart"
"Vogue"
"Like a Virgin" (featuring Groff)
"4 Minutes"
"Wat It Feels Like for a Girl"
"Like a Prayer" (featuring Groff)
"Burning Up" (featuring Groff)
"Glee" returns with all-new episodes April 13. As previously reported, Groff and Tony Award winner Idina Menzel will appear in the spring premiere.
Source: Playbill.
'Glee' Exclusive: 'Spring Awakening' star Jonathan Groff to join the show
Oct 19 2009 02:26 PM ET
by Tim Stack
EW has exclusively learned that Lea Michele's Spring Awakening co-star, Jonathan Groff (seen most recently in Ang Lee's Taking Woodstock) is coming on board Glee for five or six episodes playing the lead male singer of Vocal Adrenaline, the group already seen performing "Rehab" and "Mercy." Says Glee co-creator Ryan Murphy, "He is a male diva…a miva." Groff's character will also serve as a potential love interest for Michele's Rachel.
Source: Hollywood Insider/EW.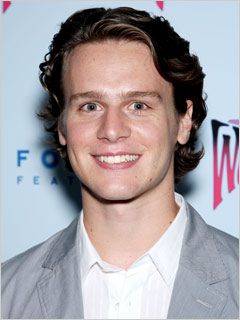 Jonathan Groff
Photo: Marion Curtis/Startraksphoto.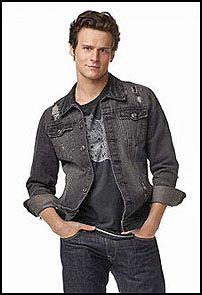 Jonathan Groff in "Glee".
Photo: Patrick Ecclesine/FOX .