Katy Perry channeling Madonna at Coachella - April 16, 2011
Katy Perry refaisant Madonna à Coachella - 16 avril 2011.

Latest Pictures of Katy Perry Channeling Madonna at Coachella
Written by Deena on Apr-17-11 8:05pm
Katy Perry definitely echoed '80s Madonna at Coachella this weekend. The singer sported a lace dress and scarf in her hair, just like the Material Girl did in 1985. What's old is new again, of course.
The "Firework" singer definitely pulled the look off and fit right in with the indie crowd in Indio, Calif. She hung out with friends and walked around the festival, and probably enjoyed not having the pressure of performing.
Katy gets a chance to be in the audience this weekend and it sounds like she had a blast as part of the crowd for Robyn's performance. "ROBYN IS THE ILLEST," she wrote on Twitter. Too bad her husband Russell Brand had to miss out on the action -- he's currently promoting his films overseas and couldn't make it. Sigh.

Source: Zimbio.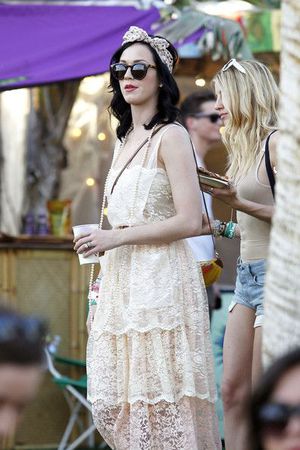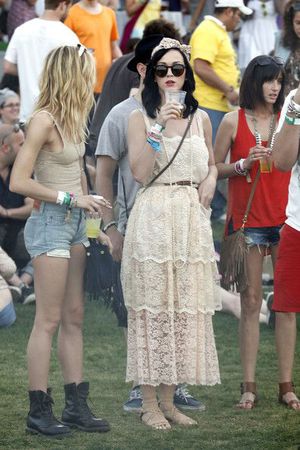 Katy Perry at Coachella - April 16, 2011
Katy Perry channels her inner Madonna circa 1985 as she relaxes with a beer on the second day of the Coachella festival. Wearing a lace dress, a string of pearls and a headscarf reminiscent of Madge's Like a Virgin era, Mrs Russell Brand mingled with other festival goers in the Colorado desert town of Indio.
Photos: Pacific Coast News.