Katy Perry in a silver Madonna-inspired cone bra on stage
Katy Perry sur scène dans un soutien-gorge conique argent inspirée de Madonna.

Kitty Perry! Katy displays her purrfect dance routine alongside a giant purple cat
By Daily Mail Reporter
Last updated at 4:50 PM on 10th June 2011
It might be too early in the year for Halloween costumes to come out but Katy Perry didn't seem to think so when she dressed as Catwoman last night alongside a big purple cat.
The singer jumped on stage at Orlando's UCF Arena in Florida as part of her California Dreams Tour in Atlanta.
And her wardrobe changes gained as much applause as her set list did, in true Katy Perry style.
During her two hour set she changed a whopping seven times, which she managed to pull off in record time.
When she wasn't a cat, Katy dressed as an electric blue and green peacock and a doll in a bright blue dress in front of a clown and a candy coloured frock.
The 26-year-old then changed into a floral bodysuit as she sat on a swing covered in white and pink roses, before throwing a feather boa around her shoulders.
Then in a sudden change of character, instead of Katy being the kitty on stage, a giant purple cat came on to dance alongside her.
While Katy performed in a turquoise blue bodysuit with a matching blue wig, the purple feline joined in on the act.
But that wasn't the end of her elaborate stage show and Katie continued to change into more whacky outfits as the evening wore on.
She quickly morphed into a silver Hershey Chocolate-inspired costume alongside a pair of sparkling kitten heels.
Katy Perry's set list included her hits such as: Teenage Dream, One of The Boys, Waking Up In Vegas, Ur So Gay, Peacock, I Kissed A Girl, Hot N Cold, Firework and California Gurls.
She also did covers of Rihanna's Only Girl (In The World) and Willow Smith's Whip My Hair.
After her amazing show, Katy tweeted: 'I love #Orlando best because they have the world's smallest pineapples here.'
Katy received glowing reviews with the Orlando Sentinel gushing: 'This show was the musical equivalent of Will Wonka's Chocolate Factory, a home for the singer's dreamy imagination.
'Musically, Hot N Cold also illustrates the strength of Perry's music, which is built on repetitive choruses that somehow are maddeningly catchy.'
During the elaborate show, her onstage dancers and backing singers were dressed as walking slot machines.
A flying cloud appeared alongside bubbles and giant video screens that encased more clouds behind them.
Tonight she performs in Ft Lauderdale in Florida before heading to North Carolina next week.
Meanwhile, her husband Russell Brand has been filming Rock Of Ages also in Florida, alongside Tom Cruise and Alec Baldwin.
The 35-year-old plays Lonnie in the film, which centres around a small town girl arriving in Hollywood at the height of the 1980s rock music scene.
Source: Mail Online.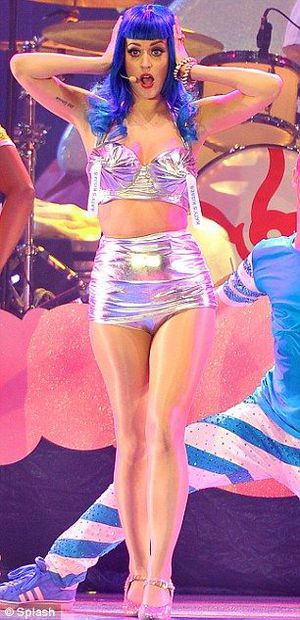 Colourful wardrobe: Katy wore a yellow, orange, blue and green feather boa over her shoulders as part of her routine and a silver Madonna-inspired cone bra and pants ensemble as she danced on stage.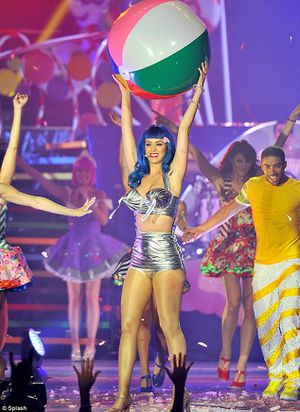 Katy Perry