Kelly Osbourne at Madonna's Material Girl launch at Macy's
Kelly Osbourne au lancement de Material Girl de Madonna à Macy's.

Spotted: Kelly Osbourne Helps Launch Madonna's Fashion Line At Macy's
Posted 25/03/2011 by MTV News in Music
Every day a multitude of stars wander through the halls of MTV News to talk about their latest projects and goof around with our intrepid correspondents. But sometimes we catch stars elsewhere, and that's why we put together Spotted!, a daily compendium of stars in the wild.
Reality TV star, singer and actress Kelly Osbourne has managed to evolve into a true fashion icon. She is one of the panelists on "Fashion Police" and regularly does analysis for E!, but she also has had her own line and has been the face of others. Her latest project is Madonna's Material Girl line, which replaced Taylor Momsen with Osbourne earlier this year. The metal scion was all smiles at the launch of the line at Macy's Beverly Center in Los Angeles.
Source: MTV Newsroom.

Kelly Osbourne Paired Pale Denim With Floral Prints
3/25/11 at 5:35 PM
Last night at the Macy's Beverly Hills store, Kelly Osbourne celebrated the launch of Madonna's latest Material Girl collection wearing a pale denim shirt unbuttoned over a polka-dot blouse and a bright floral print miniskirt. She paired the look with peep-toe heels and a number of chunky bracelets.
Would this outfit look better without the cropped workshirt? Or do the prints not match regardless?
Source: NY Mag/The Cut.

Kelly Osbourne fetes Material Girl at Macy's
March 25, 2011 | 11:11 am
Booth Moore
I like to think of Kelly Osbourne as the accidental fashion icon. In front of our eyes, she's gone from awkward teenager, to taut and toned "Dancing With The Stars" darling, to red-carpet commentator and fashion-campaign frontwoman -- always with an irreverent wit that makes her totally endearing. She's also a singer, an actress, an author and a fashion designer, for those who are keeping track (her Stiletto Killers label closed a few years back.) And she's only 26!
Her new gig as the face of the Material Girl collection for Macy's, designed by Lourdes Ciccone and mama Madonna, came about after Lourdes (or Lola, as she is known), wrote about Kelly's style on her blog. That led to a meeting, a deal, a photo shoot at the Mars Bar in New York City's East Village, and the cute ads out now. (A behind-the-scenes video of the shoot can be seen at the Material Girl Collection website.)
The Material Girl collection is aimed at the junior set, those who are too young to remember the song Madonna made famous in 1985. Pieces include a faux suede fringed vest ($36), rose print miniskirt ($24); denim bustier ($26); sequin patch leggings ($22) and gladiator wedge-heel sandals ($44).
Osbourne is taking her latest starring role in stride. "I want to make it very clear, I am not a fashion model," she said before a personal appearance at Macy's at the Beverly Center on Thursday night. "Every girl, no matter who you are or where you grew up, you fantasize about stuff like this. I was standing there [at the photo shoot] doing all the poses I do alone in my room!"
Her newfound fashion clout is all the more funny, she says, because she has had so many fashion offenses. "When I Google my name, there's this one picture that always comes up. There's my round face, and I've got black hair and pink lips and black eyeliner like a raccoon.... Not cute."
Now that she has a better hold on the fashion thing, she has her definite pet peeves -- and not just on the red carpet, which she critiques for E!'s "Fashion Police." "I can't stand cool girls. There is no such thing as cool, as being the 'It' girl. I am not cool. I don't want to be. It's so much effort. I'm not into having to have the perfect indie outfit and reading Kurt Vonnegut, and going on long walks in Los Feliz. Beverly Hills girls in Los Feliz, I can't stand it!"
As she prepares to head out to meet her fans, I ask what most girls want to know about her? "I don't know! On Twitter, they usually want to know how I lost weight or what color lipstick I'm wearing."
Not that she fancies a life outside of the spotlight. "I have never not been in the spotlight.... I grew up and I was the weird kid whose father was the Satanist who bit the heads off bats. I don't know what normal feels like."
Tell it like it is, Kelly. I nominate you to be the next-generation Oprah.
Source: Los Angeles Times.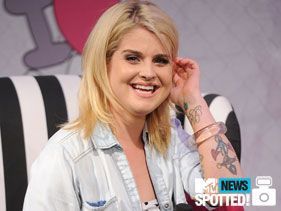 Kelly Osbourne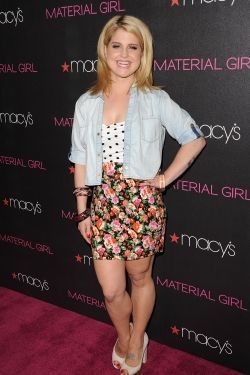 Photo: Jason Merritt/Getty Images.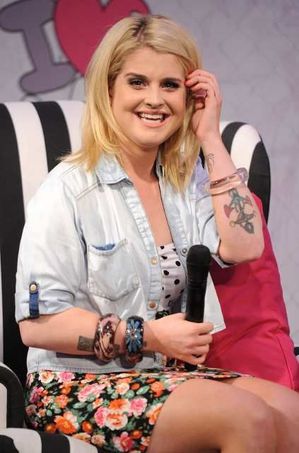 Kelly Osbourne at a launch event for the Material Girl Collection at Macy's in Los Angeles on March 24.
Photo: Jason Merritt / Getty Images.