Kylie Minogue wears Madonna's conical bra
Kylie Minogue porte le soutien-gorge conique de Madonna.

Mind if I borrow that old bra of yours, Madge? Kylie slips into Madonna's famous conical number
By Tamara Cohen
Last updated at 10:27 AM on 17th May 2010
They say imitation is the sincerest form of flattery.
Kylie Minogue must be hoping Madonna feels that way when she sees her trademark conical bra style from 20 years ago recreated by the same designer.
Miss Minogue, right, donned the daring Jean-Paul Gaultier number to promote her 11th album Aphrodite, out this summer.
Looking far younger than her 41 years, she teamed it with the designer's high-waisted satin trousers and a slashed strappy top.
The futuristic outfit is a slightly more conservative version of the iconic look he created for Madonna in 1990 - a gold conical bra corset and fishnet tights which caused a stir on the Blonde Ambition tour and became one of her bestknown images.
It's not the only thing Kylie has borrowed. All the Lovers, the first track on her album, is produced by Stuart Price, who has worked with Madonna.
It has taken Kylie a while to return a compliment paid to her by Madonna who wore a T-shirt emblazoned with the words Kylie Minogue at an awards show in 2000.
Source: Mail Online.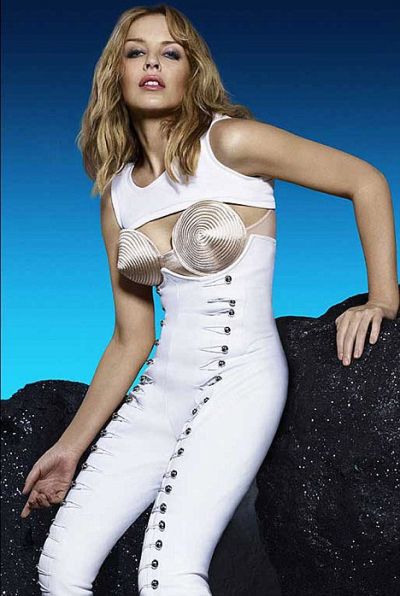 Seen that before: Kylie Minogue dons the iconic Jean-Paul Gaultier conical bra to promote her new album Aphrodite.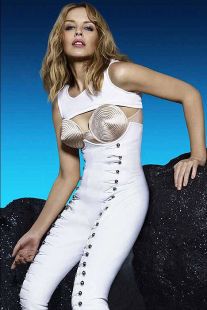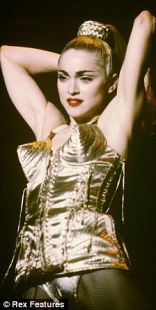 Queen of Pop: Madonna first wore it on her Blonde Ambition tour in 1990, seen below giving a nod to the Australian singer in a Kylie Minogue T-shirt in 2000.