Lady Gaga apologises for ''retarded'' comment
Lady Gaga s'excuse pour le commentaire "retardé".

Friday, April 22, 2011
Lady Gaga's sudden loss of temper during an interview with music magazine, NME, recently has landed the singer in hot soup, and prompting an apology for a controversial comment with the use of the word "retarded".
During the interview, Lady Gaga was once again questioned about the comparison between her hit song, Born This Way, and Madonna's Express Yourself. Obviously, the eccentric singer wasn't very pleased by the line of questioning and lashed out on a verbal frenzy to defend her song.
"That's retarded," she said. "If you put the songs next to each other, side by side, the only similarities are the chord progression. It's the same one that's been in disco music for the last 50 years. Just because I'm the first f***ing artist in 25 years to think of putting it on Top 40 radio, it doesn't mean I'm a plagiarist, it means I'm f***ing smart. Sorry."
Shortly after the issue hit newsstands, however, Lady Gaga issued an apology on her poor choice of words and insensitivity through a statement released to celebrity blogger, Perez Hilton.
"I consider it part of my life's work and music to push the boundaries of love and acceptance. My apologies for not speaking thoughtfully," the statement on Perezhilton.com read. "To anyone that was hurt, please know that it was furiously unintentional. An honest mistake requires honesty to make."
Later in the statement, Lady Gaga went on to quote some lyrics off the song in question, saying: "Whether life's disabilities left you outcast, bullied or teased, rejoice and love yourself today."
Source: Galaxie Magazine.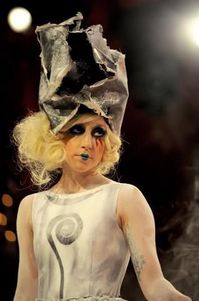 Lady Gaga