Lady Gaga documentary compared to Madonna's ''Truth or Dare''
Le documentaire de Lady Gaga comparé à "Truth or Dare" de Madonna.

Lady GaGa cries in HBO documentary sneak peek
GaGa: Don't cry for me, NYC
April 22, 2011 / Jarett Wieselman
Lady GaGa certainly won't help eradicate any of those Madonna comparisons with her new HBO documentary, which not only embraces some good old fashioned B&W filmmaking, but also aims to show the megastar in a humanizing light.
Shades of "Truth or Dare," as you can plainly see in this tearful clip that features the singer during a particularly low, emotional point while preparing for her massive Madison Square Garden show.
"Lady GaGa presents The Monster Ball live at Madison Square Garden" premieres May 7 at 9pm on HBO.
Source: PopWrap/NYPOST.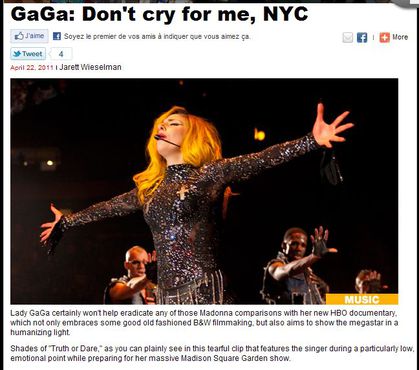 Lady Gaga