Lady Gaga: ''I may look like Madonna when I grow old''
Lady Gaga: "Je vais peut être ressembler à Madonna plus tard".


Indo-Asian News Service
London, June 03, 2010
First Published: 22:00 IST(3/6/2010)
Singer Lady Gaga thinks she may look like pop diva Madonna when she grows old because her mother looks like the pop superstar.
The Poker Face singer finds her comparison to the Queen of Pop funny and more of appearance based rather than performance, reports contactmusic.com.
"We're compared to each other, whether we're blonde, brunette, black, white, straight, gay. But on another level, it's kind of funny, because my mother actually looks sort of like Madonna. And the older I've gotten, I look more and more like my mother. So sometimes I just want to say, it's not my fault that I look like her," she said.
Source: Hindustan Times.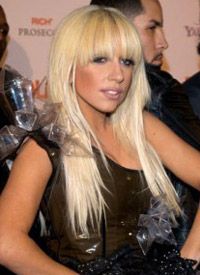 Lady Gaga