Lady Gaga looking like Madonna: on tour and in ''Alejandro'' video
Lady Gaga ressemblant à Madonna: en tournée et dans la vidéo "Alejandro".

Lady Gaga looking like Madonna on tour: like Madonna in 1987 during the "Who's That Girl World Tour".
Lady Gaga looking like Madonna in ''Alejandro'' video: like Madonna's "Vogue" video.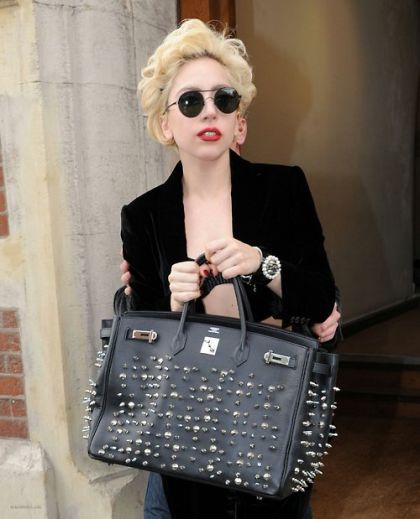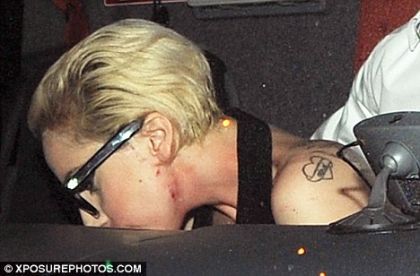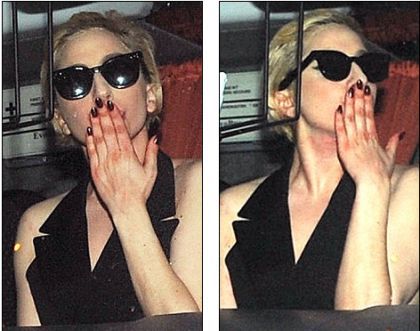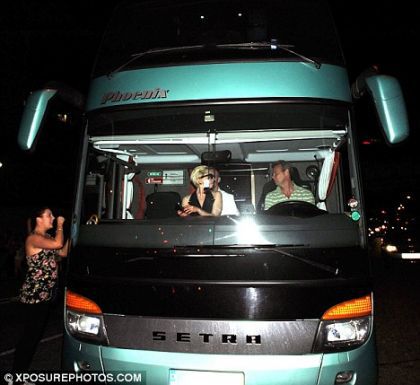 Lady Gaga hits the stage in more Madonna-inspired costumes after banning her dancers from having sex on tour
By Daily Mail Reporter
Last updated at 1:43 PM on 24th May
After recharging her batteries in the French Riviera earlier in the week, Lady Gaga hit the stage again in Paris last night during The Monster Ball Tour.
The Paparazzi singer was back to work and gave it her all in Madonna-inspired costumes and wild dance moves.
She sported a PVC bodysuit soaked in blood, studded bras and knickers with ripped fishnet stockings and a mirrored dress just to name a few of her wacky costume changes.
Lady G has also sparked controversy over her strange requests on tour, one of them being that her dancers are banned from having sex during the tour because she wants them to 'make love to her on stage', the Daily Star Sunday reported.
'She has made it quite clear to all her dancers they are not allowed to have sex while the tour is still going.
'She wants them to give 100 per cent on stage so she doesn't want them wasting any energy on bedtime action', a tour source told the newspaper.
And Gaga is definitely using the sexual tension to her advantage on stage - in some routines she pretends to have sex with a few of the dancers and wants them to look as real as possible.
The Bad Romance singer's world tour is selling out faster than you can even say Gaga and she's back in the UK this week to play in Nottingham on Thursday.
To take a break from her gruelling tour, she hit the shores of Saint Tropez earlier in the week to relax and recharge.
And with her endless schedule of performances across the globe, it's no wonder Lady Gaga decided to take a well-earned break.
On a yacht off the French coast, the admittedly bisexual star, could barely contain her Poker Face as she rolled around with a mystery brunette companion.
According to one onlooker, the couple appeared to be playing a LoveGame on her break in Saint Tropez, seemingly not fussed by the attentions of the Paparazzi.
'The girls were all over each other,' a source said.
'They looked like they were having a great time. The fun-loving pair then took time out to relax together and enjoy a well-earned cup of tea and can of pop,' they added.
Typically dressed for the location in a Breton t-shirt, the 24-year-old looked relaxed and happy, wearing over-sized sunglasses with her platinum hair swept off her face.
The break could not have come at a better time for the pop star - whose real name is Stefani Germanotta - after suffering from a series of respiratory problems on tour.
Elaborating, she said to The Times Magazine: 'I'm very connected to my aunt, Joanne, who died of lupus. It's a very personal thing. I don't want my fans to be worried about me.'
Addressing speculation over her weight she stated she does not have an eating problem and claims she rarely takes drugs.
'A little MDMA once in a while never killed anybody,' she said. 'But I really don't do drugs.
'I don't touch cocaine anymore. I don't smoke. Well, maybe a single cigarette - and whisky - while I'm working because it frees my mind a little.
'But I care about my voice. The thrill of my voice being healthy on stage is really special. I take care of myself.'
Her visit to Saint Tropez follows her recent performance in the Bercy Theatre in Paris.
Clad in fishnet tights, she showed off her two World Music Awards statues for Best Album for The Fame and Best Single for 'Poker Face', between her legs while paying the piano.
Source: Mail Online.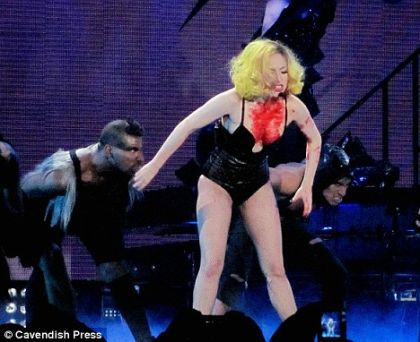 Lady Gaga drives fans crazy with The Monster Ball Tour in Paris, France, with blood soaked costumes and wacky dance moves.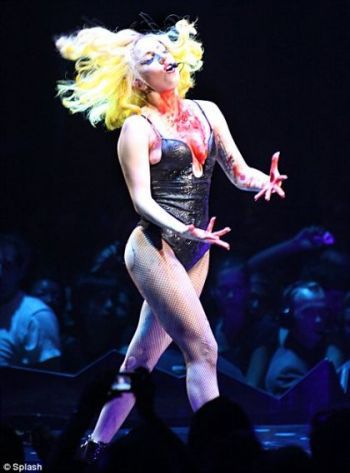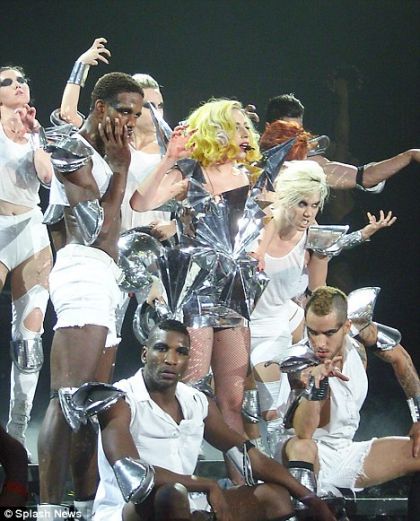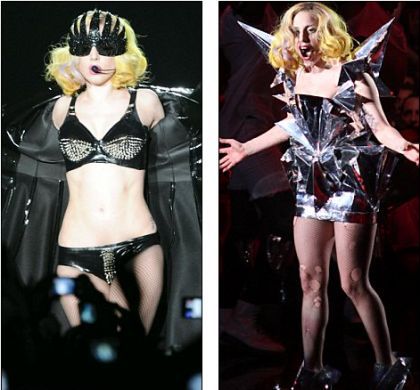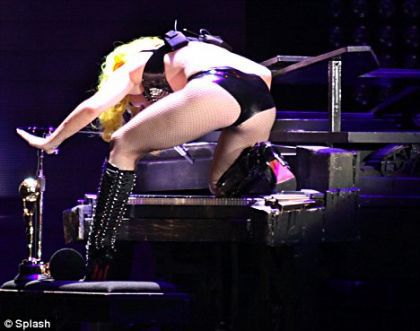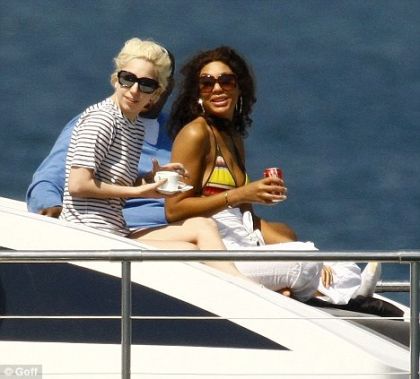 Well-earned break: Lady Gaga relaxed with her mystery brunette companion in a yacht off the coast of French town Saint Tropez.

Hoofs shoes are these? There's no way Lady Gaga can just dance in this horse-like clompy footwear
By Sara Mccorquodale
Last updated at 3:12 PM on 5th June 2010
When it comes to style, Lady Gaga usually hits the headlines for her choices of headwear.
But as she walked through Heathrow Airport onlookers were struck by one thing - her heel-less hoof-like clompy shoes.
By Gaga standards, the rest of her outfit was really quite tame - a simple sleeveless black jumpsuit.
However, with shoes like these keeping everything else plain is probably the best sartorial decision.
Carrying a huge studded bag, the 24-year-old looked sombre as she clomped through the departure halls.
Although uncomfortable-looking the Poker Face star had no trouble maintaining her swagger in the cream zip-up constructions.
But she did look like she need a rest and some home comforts.
The star has been touring rigorously since breaking into the charts last year and appeared drained as she set off for New York.
And in addition to her travelling schedule, the singer revealed recent test results showed she was borderline positive for connective tissue disease Lupus earlier this week.
But as always with Gaga the show must go on - and no doubt her fans were delighted to see her horse-like avant-garde shoes.
Source: Mail Online.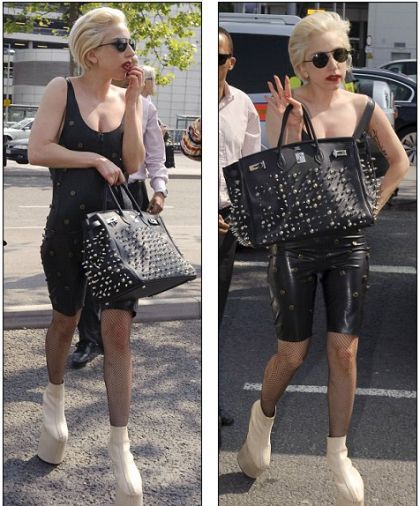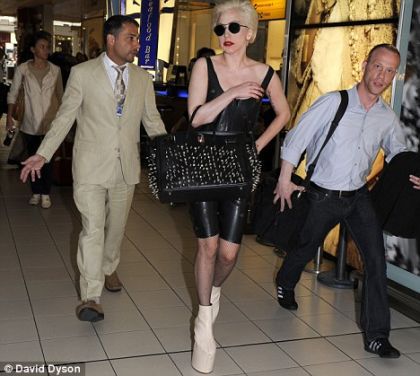 Drained: It looked like the star's rigorous touring schedule was taking it's toll on her as she left London.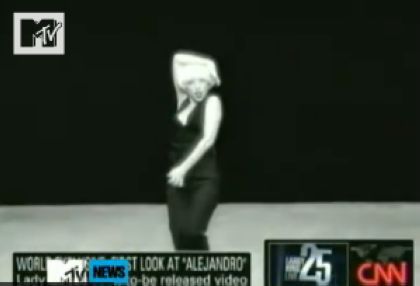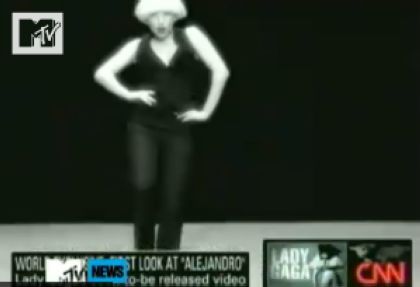 Lady Gaga looking like Madonna in her ''Alejandro'' video.