Lady Gaga, Madonna and Fashion
Lady Gaga, Madonna et la Mode.

Fashion's first lady
MELISSA KENT
March 21, 2010
Anyone who's heard of Lady Gaga knows the new high priestess of shock doesn't hold back when it comes to fashion.
She's met the Queen in a red PVC Elizabethan gimp dress, held press conferences in gigantic shoulder pads that could double as an airline chair, flourished capes made from skinned polar bears, writhed in nude body-stockings with gaffer-taped nipples (fashion is pain, people), sculpted her hair into telephones and, of course, sparked a no-pants craze with her trademark "underwear-as-outerwear" look.
With her bizarre style - masked face, overdone hair and make-up, gridiron shoulders - Gaga has emerged as a surprising muse for both the high street and haute couture.
Her space-age aesthetic has influenced designers such as Giorgio Armani, Givenchy's Riccardo Tisci and Jean Paul Gaultier, while at the other of the scale outlets such as UK internet retailer Asos has attributed a 30 per cent rise in sales to Gaga-inspired lace party frocks, body suits and underwear.
While singers have long spearheaded the fusion of music and fashion, in just 15 months Gaga has in equal measure rocked the pop and fashion worlds in a way many have compared to pop's original fashion wild child - Madonna.
In fact, she's been been compared to the Material Girl so many times that she and Madonna did a skit together on Saturday Night Live: Gaga's opening line was "Madonna? I'm totally hotter than you." Madonna has said: "I see myself in her."
Perhaps the Wall Street Journal nailed Gaga's influence on pop and fashion when it said: "Gaga ... really understands spectacle, fashion, shock, choreography - all the things Madonna and Michael Jackson were masters of in the 1980s."
It's fitting then, that Lady Gaga's Melbourne show this week coincides with an exhibition of Madonna's most iconic costumes as part of the Melbourne Fashion Festival.
The 30-piece collection at Chadstone includes the pink dress worn in the Material Girl video clip and the infamous gold conical bustier designed by Jean Paul Gaultier and worn by Madonna during her provocative 1990 Blonde Ambition tour.
"As stand-alone pieces, each of those costumes makes a comment on either class, gender, sexuality, race or just the power of the individual," says Antonino Tati, editor of Cream magazine and self-confessed Madonna aficionado.
"These are really iconic because they're so ingrained in the public's mind and stand for so much in pop culture."
Like Madonna, Gaga's ambition is well-documented and she exerts a vice-like control over her image. While her outfits are largely the work of a team she calls "The Haus of Gaga", she remains the creative force behind her aesthetic.
"I'm this way all the time," she has said.
"I'm always dressed the way you see me in my videos and my performances. I live and breathe fashion, art and music. I was the girl who used to be made fun of in school because I was wearing some crazy outfit. For me, it's not a costume; it's not a look. Lady Gaga is me."
It was only a matter of time before Gaga-inspired trends filtered down the high street, in admittedly diluted forms - no telephone hairpieces or polar bear capes - but rather in structured shoulders, lace body suits and leggings.
"She was the first one to really embrace those strong shapes, particularly those kind of Cube-esque shoulder pads. I see big shoulder pads and straight away I think, ooh very Gaga," says Melbourne singer and designer Lee Lee from the band Dirty Laundry.
"I see her as the love child of Bette Midler and Madonna, but even more out there. I like that her look is not just about being the beauty queen. It's visually stimulating."
Melbourne designer Alexi Freeman sees Gaga as a pop star of post-modern relevance.
"Like David Bowie in the '70s, like Madonna in the '80s, Lady Gaga is a real icon of fashion and where things are going," he says.
"Admittedly, she does seem kind of insane, but I think she's on a very creative journey. She is really on her own trip - in the beginning anyway, when she made her own outfits and did her own make-up, she was pursuing her own aesthetic. She's genuinely expressing her own vision of what's relevant now."
Lady Gaga performs at Rod Laver Arena on Tuesday and Wednesday, and April 9, as part of her Monster's Ball tour.
Source: The Age.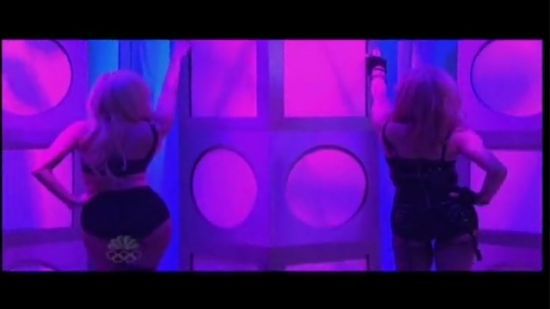 Madonna and Lady Gaga in TV show 'Saturday Night Live' on October 3, 2009.