Lady Gaga or Madonna : Who is the Real Pop Queen?
Lady Gaga ou Madonna : qui est la Vraie Reine de la Pop?


By Jerry Reth Filed in Madonna on July 3, 2010
Lady Gaga or Madonna : Who is the Real Pop Queen? – Comparisons between the two are made on a regular basis, and you can see why someone would think that Lady Gaga was attempting to become the new-age Madonna. They both were known for their wild choices of clothes, and for making controversial music that pushed the boundaries of a generation. Ever since her debut single was released, Gaga has become a worldwide icon, and a strong advocate for gay rights and women's rights.
Her music does not sound all that similar to Madonna's but the content is eerily similar. Both of their catalogues contain a number of sexually infused songs that have been heavily criticized by the media. Her most recent video for her song, "Alejandro," is among the most controversial videos of all time.
The video contains a number of religious undertones that can be seen as an attempt to make a video like Madonna's former hit, "Like a Prayer."
She tends to speak on very controversial subjects. Often times the things that Gaga says alienates her from some of her fans, but it appears that the publicity she receives from making the comments far outweighs the harm of upsetting a small sect of Gaga fans.
Her other singles, "Paparazzi," "Bad Romance," and "Telephone" have all done well on the charts. When comparing their careers side by side, they have a very similar rise to stardom. Gaga wrote music for other people behind the scenes for many years before releasing her own music.
Here are their Billboard chart performances:
Billboard Hot 100
Madonna: 8 entries, 7 top 10s, 2 No. 1s (and 2 Gold titles, according to the Recording Industry Association of America (RIAA)
Lady Gaga: 10 entries, 7 top 10s, 2 No. 1s (and 4 Platinum titles, according to the RIAA)
Billboard 200
Madonna: 2 entries, 2 top 10s, 1 No. 1
Lady Gaga: 2 entries, 2 top 10s
Dance/Club Play Songs (comparing each artist's first 26 months, since Lady Gaga first charted on the list dated May 3, 2008)
Madonna: 5 entries, 5 top 10s, 3 No. 1s
Lady Gaga: 8 entries, 8 top 10s, 7 No. 1s
Adult Contemporary
Madonna: 7 entries, 2 top 10s
Lady Gaga: 5 entries
Source: Spreadit.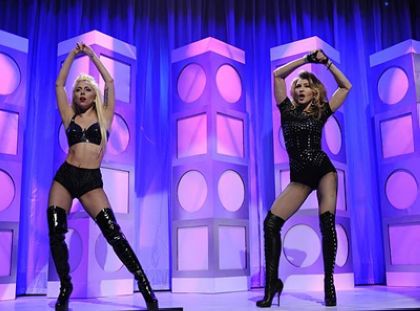 Lady Gaga and Madonna