Lady Gaga pays Homage to Madonna in ''Alejandro'' video
Lady Gaga rend hommage à Madonna dans la vidéo "Alejandro".

Lady Gaga 'Alejandro' Video Premieres, Channels Vintage Madonna
by Monica Herrera, N.Y. | June 08, 2010 12:30 EDT
Lady Gaga's "Alejandro" video premiered today (June 8) on her website, and just like its teasers indicated, the clip channels classic videos by Madonna ("Vogue") and Janet Jackson ("Rhythm Nation"). It also courts religious controversy in much the same way that Madonna's "Like a "Prayer" video once did, intermingling Catholic imagery like rosary beads and nun's robes with sexual cues like S&M and androgyny.
Helmed by fashion photographer Steven Klein, Gaga's "Alejandro" video starts out with topless men sporting bowl haircuts (much like those worn by monks) marching "Rhythm Nation"-style through an industrial space. Gaga is draped in a black veil and carrying a human heart -- presumably belonging to her dead lover -- while walking through a funeral procession. The gothic eye candy transitions into a sequence where Gaga dons latex versions of the robes worn by nuns and monks and clutches rosary beads, which she later uses to satisfy her oral fixation. For the dance sequences, Gaga wears a nude two-piece and performs a sexually-charged dance sequence with her male dancers, both on the floor and in the bed.
Also, there's a really catchy synth-pop song about breaking up with a Latin lover playing in the background, but we can't figure out for the life of us why.
What do you think of Lady Gaga's "Alejandro" video? Do you think she went too far, or is she pushing boundaries the way a pop star should?
Source: Billboard.

Lady Gaga Pays Homage To Madonna In Alejandro Video
Wednesday, June 09, 2010
Finally, after months of waiting, fans of Lady Gaga are delighted that the video for her latest single, Alejandro is released.
Like her previous videos, this one is outlandish too. But what is clear in this video is Gaga's homage to one of her heroes, Madonna. All the references to Madonna are here: sacrilegious imagery, simulated sex scenes, military-inspired wardrobe, a nod to Vogue and an updated cone-bra which doubles as guns! Directed by Stephen Klein, the fashion photographer who has worked with Madonna on many occasions, the Alejandro video runs just under nine minutes.
In earlier interviews, Gaga has revealed that the song is about her relationship with her gay friends. "It confesses my envy of the courage and bravery they require to be together," Gaga said. "In the video I'm pining for the love of my gay friends, but they just don't want me to be with them."
Watch the highly stylised video here.
Source: Galaxie Blog.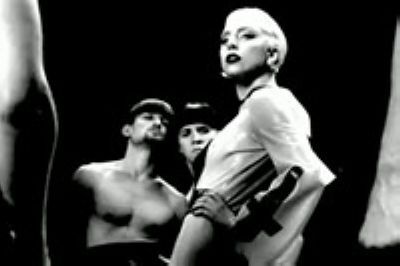 Don't call my name, don't call my name Alejandro.