Lady Gaga's creative director Laurieann Gibson admits copying Madonna
La directrice artistique de Lady Gaga, Laurieann Gibson, admet copier Madonna.

Laurieann Gibson puts Lady Gaga and other stars in step
May 10, 2011 | 6:03 am
Choreographer Laurieann Gibson has helped Lady Gaga with her often spectacle-filled performances. 'She is so fearless,' Gibson says of Gaga. She managed to find time for a moment with Pop & Hiss.
- People might not know that you've been with Lady Gaga from the beginning. How did that union start?
She came to me like, "I got dropped and I don't really know if I have it in me to know what I need to do to make my dream come true." And then she played me her record and I said, "Listen, I've got enough for the both of us, let's go." We started designing her opinion as a live performer and what that would be, what the records would feel like visually. How would "Just Dance" turn into "Poker Face," into "Bad Romance"— and now the "Monster Ball" [tour].
- A lot of her visual aesthetics have been compared to Madonna. As her creative director what are your thoughts on that?
Listen, [Madonna] should be bitter because I did it on purpose, and you can quote me. I did it on purpose because for all those kids who believe that you can't, I wanted to let them feel that you can. And that's what I represent, that's what Gags represents. That's what this movement represents.

Full interview here: Laurieann Gibson
Source: Pop & Hiss Los Angeles Times.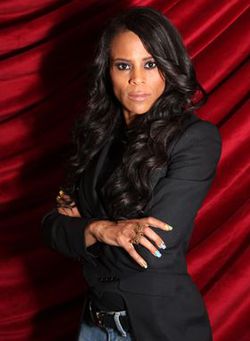 Laurieann Gibson