Lady Gaga The New Madonna? Lets Wait Awhile
Lady Gaga, la nouvelle Madonna? Attendons un peu.


by Paul Cashmere - April 17 2010
In August 2008, Lady Gaga released her debut album `The Fame`. In May 2010, she will release yet another version of it.
Maybe we should hold back on calling Lady Gaga the new Madonna. She doesn't deserve it yet. Maybe she will. She could based on the quality of 'The Fame' but right now we are only basing that on one album.
Did anyone expect Madonna to have a 30-year career based on her 1983 debut? No way! "The Fame" came later after it was earned. Lady Gaga isn't there yet.
It was a pretty incredible album. It gave us the hits 'Everybody', 'Burning Up', 'Holiday', 'Lucky Star' and 'Borderline'.
But the next year Madonna gave us 'Like A Virgin' and the hits 'Like A Virgin', 'Material Girl', 'Angel', 'Into The Groove', 'Dress You Up' and 'Love Don't Live Here Anymore'.
In a three year period with Madonna you can also add the 'True Blue' album and the hits 'Live To Tell', 'Papa Don't Preach', 'True Blue'. 'Open Your Heart' and 'La Isla Bonita'.
Madonna had 15 top 40 hits in the same time Lady Gaga has released the same album three times.
Let's wait until a second album before a decision about stardom is made.
Source: Undercover.com.au.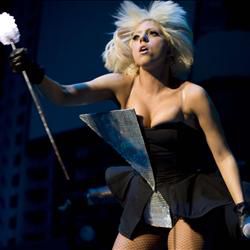 Lady Gaga playing Rod Laver Arena, Melbourne Australia 2009.
Photo: Tim Cashmere.