Lady Madonna and Lady Gaga
Lady Madonna et Lady Gaga.


Lady Madonna
By JENNA SLOAN
Published: 07 Aug 2010
They have both sent shockwaves around the globe with raunchy videos and out-there outfits and stormed the charts with infectious pop songs.
Madonna conquered the world in the Eighties with her brash style and conical bra.
But now the Queen Of Pop's crown is being grabbed from her head by another outrageously dressed Italian-American singer.
Lady Gaga already has four British No1 singles under her tight little belt and, as we revealed this week, she has received a record 13 nominations for the MTV Video Music Awards.
As you can see, a flick through her photo album shows remarkable similarities with Madonna - her role model.
Madge, 51, ditched her middle name (Louise) and surname (Ciccone), while Lady GaGa, 24, dumped the name her parents gave her.
She was born Stefani Germanotta to wealthy internet entrepreneur parents in New York.
The name Lady GaGa was coined later by a music producer in tribute to QUEEN song Radio Gaga because she sounded like a female FREDDIE MERCURY.
She went to Convent Of The Sacred Heart, the same exclusive girls' school as PARIS HILTON.
Pictures in the school year book show a fresh-faced teen - much like Madonna at the same age.
But GaGa's desire to stand out was already there.
She once said: "I used to get made fun of for being provocative... I felt like a freak."
She dropped out of her New York Uni music course to became a burlesque dancer in the city.
Her act involved dressing in hotpants and a bra, setting fire to a can of hairspray and posing on a giant disco ball.
Madonna, a high school rebel who once flashed her underwear at classmates, started out as a waitress in Dunkin' Donuts.
Then she became a singer and dancer in the underground clubs and bars of New York.
But GaGa saw the darker side of the city's club life, becoming addicted to cocaine. This week she admitted she still takes it.
GaGa signed her first record deal in 2005 but the contract fell through.
After writing tracks for acts including BRITNEY SPEARS and the PUSSYCAT DOLLS, she landed a second deal.
And in January last year she had her first UK No1 with Just Dance.
GaGa's brand of pop has many similarities with Madonna's music - but it is her Monster Ball tour that really linked the two icons.
Stockings
Madge's leotard costume with conical bra, for her 1990 Blond Ambition tour, put her on the fashion map.
GaGa sported a similar leopard-print leotard on the road. She also tried Madonna's blonde hairstyle and re-created her trademark no-holds-barred poses, bending over wearing fishnet stockings.
Madonna's video to her 1989 single Like A Prayer outraged religious groups because it featured burning crosses and her promo to Like A Virgin saw her writhing on the floor in a wedding dress.
For GaGa it was the lesbian kissing in the video for Telephone - her single with BEYONCE - which has caused the most controversy.
But it has picked up an MTV award nomination for best collaboration.
GaGa has taken her ride to fame on the back of the internet generation.
The video of her 2009 No1 Bad Romance has had more than 257million views on YouTube.
Her Facebook fan page has 14.8million fans, while Madonna has two million.
It has helped GaGa quickly reach 15million album sales, while Madonna has a career total of 200million.
The one area where the two really differ is men.
Madonna married her first husband, actor SEAN PENN, on her 27th birthday and she has had a string of failed relationships.
Her former personal trainer, CARLOS LEON, is the father of her daughter LOURDES, 13.
Son ROCCO, nine, came from her marriage to Brit GUY RITCHIE, which ended in 2008.
Other children David Banda, four, and Mercy, five, were adopted from Malawi.
Her latest fling is with Brazilian model JESUS LUZ, 23.
But there is no sign of a steady boyfriend for GaGa. Her on-off fella is barman Luc Carl.
In an interview last month she said: "I'm lonely when I'm in relationships. It's my condition as an artist."
Madge's daughter Lourdes is a huge GaGa fan.
She was spotted "dancing her pants off" at a Lady G New York show last year - accompanied by her mum.
Maybe even the Queen Of Pop has gone goo-goo over Lady GaGa.
Source: The Sun ShowbizBizarre.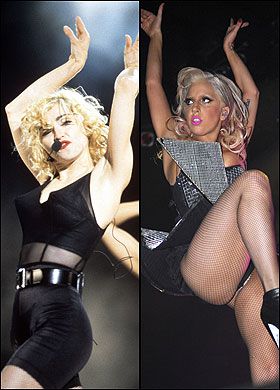 Madonna and Lady GaGa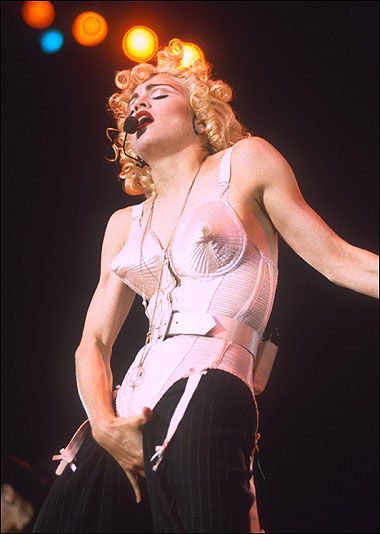 Madonna in 1990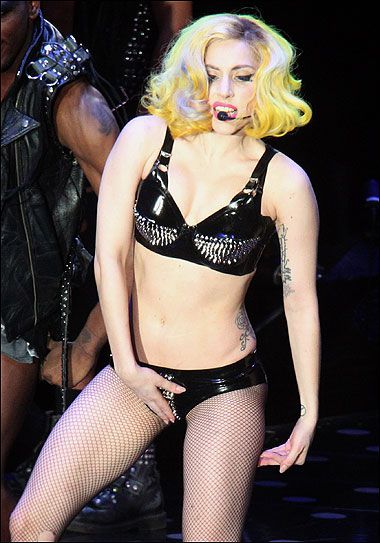 Similar rude antics ... GaGa in May this year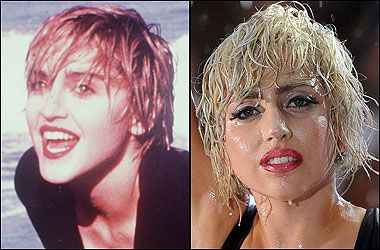 Madonna in 1989 and Lady GaGa last month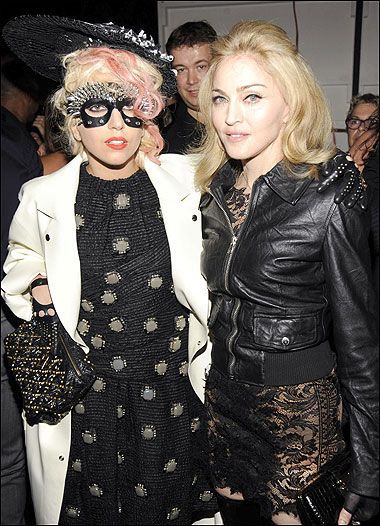 Lady GaGa and Madonna last September 2009