Laura Black follows 'Madonna Fans' World' on Twitter
Laura Black suit 'Madonna Fans' World' sur Twitter.

Laura Black
@blackatyou Los Angeles
TREND THE TRUTH and stop lies and spin? Join in promoting that THE TRUTH ROCKS!!! Pick-up a copy of my CD or download a couple of songs here
http://lnk.ms/1R8p7
http://www.myspace.com/laurablackrocks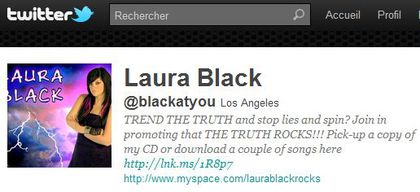 Follow us on Twitter! Suivez-nous sur Twitter!