Laura Hamilton disappoints judges with Madonna themed routine
Laura Hamilton déçoit les juges sur un thème de Madonna.

Dancing On Ice: Laura Hamilton disappoints judges with Madonna themed routine
March 27th, 2011 by Lisa McGarry.
Laura Hamilton chose to run with a Madonna theme for her showcase routine for tonight's Dancing On Ice final.
The former children's TV presenter picked 'Express Yourself' for her song and in her VT said she wanted to recreate the 'industrial feel' of the original music video. She also incorporated a back flip with the gorgeous Sylvain Longchambon into her routine (which we bet Jennifer Metcalfe wasn't pleased about) and looked nervous to be doing it with someone who wasn't Colin.
As she took to the rink tonight, we found ourselves much more excited than we were about Sam and Brianne's earlier outing. The whole thing was much smoother and more graceful and Laura's lines were impeccable.
However, the judging panel didn't love it as much as us and only scored Laura 26, compared to Sam's 29.5.
Judges Comments:
Jason: It's such an iconic number and unfortunately I just didn't engage with it as much as I'd hoped. I felt it was all too very laboured and set up It lost the dynamism I was expecting to see.
Emma: Overall your performance is always brilliant, but for me tonight, it was missing that sexy Madonna feel. That's why I couldn't give you the ten.
Robin: I think you have this great charisma but I felt there was so much concentrating on being in the right place, it just lost it's spontaneity.
Did you enjoy Laura and Colin tonight? Will you be voting for them to win? Leave your comments below.
Source: Unreality TV.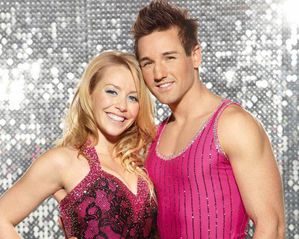 Laura Hamilton