Lea Michele Takes on Madonna's 'Prayer' on New 'Glee' Promo
Lea Michele prend la 'Prière' de Madonna dans la nouvelle promo de 'Glee'.


March 25, 2010 04:51:39 GMT
Plus, Emma and Will get some couch action, Kurt comes out as gay to Sue and a Vocal Adrenaline member challenges Finn for a sing-off.
The latest "Glee" promo is showered with new footage including the first listen of Lea Michele tackling Madonna's "Like a Prayer". The show returns on April 13 with episode "Hello" which will include a lot of songs with the syllables on the title and continue on April 20 with a Madonna-centric episode called "The Power of Madonna".
The video is in fact full of firsts. Fans get the first glimpse of Will and Emma making out on the couch although Emma admits she's uncomfortable getting intimate on the couch where Will "made a fake baby" with his estranged wife Terri. There's also the first look of Rachel's possible new love interest, Jesse St. James, who is played by Jonathan Groff. Jesse challenged Finn for a sing off in the parking lot.
"Idina Menzel [plays] the coach of Vocal Adrenaline, and I'm the lead singer," Groff explained about his role in an interview. "I meet Lea Michele, who plays Rachel Berry, in the first episode [in April] and we sort of have an immediate connection. I want to be a star just as much as she does. ... Her character hasn't met anyone like that yet, so it's an interesting chemistry."
Sue meanwhile remains to be the show's attraction with her sharp tongue. She told Will, "Wow, I just lost my train of thought, you have so much margarine in your hair" and odd couple Mercedes and Kurt "How do you two not have a show on Bravo?"
Source: AceShowbiz.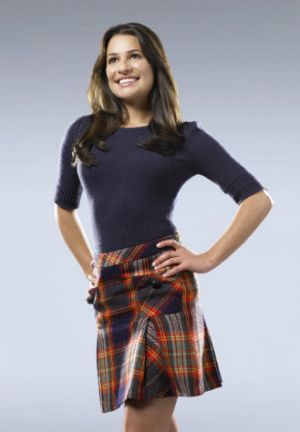 Lea Michele