Leone Ioannou: The best party I have ever been to was one of Madonna's
Leone Ioannou: La meilleure fête à laquelle j'ai été était une de Madonna.

Ioannou in vogue
ROSS McRAE, The West Australian
March 25, 2011, 10:50 am
She may have closed down New York City streets for Beyonce, shared a lift with Anna Wintour, sent Run DMC down the Hudson River in a car and partied with Madonna, but Leone Ioannou is still just a down-to-earth Perth girl.
While Ioannou runs her own still-photography fashion and advertising production company based out of New York, her career path wasn't always so clear.
The Inglewood-born and raised brunette told Access All Areas she studied to be a dietitian at Curtin University, a career she actually pursued until she was almost 30 and decided to change industries because of her love of fashion.
After sending out 40 various job applications, one company replied and agreed to take her on and sponsor her to work in New York.
That company was Elite, perhaps the world's most prestigious modelling agency, which hired her to be a model mentor. Among Ioannou's first batch of models was a young Gisele Bundchen.
During this time, Ioannou was befriended by supermodel Linda Evangelista's sole booker who showed her life in New York.
"She took me to all the parties, all the hot spots. Seriously, I wish I had documented everything," she said.
"The best party I have ever been to was one of Madonna's. It was at a bar in New York, it was celebrities everywhere. I was like 'I am from Perth, what the hell am I doing here?'"
Ioannou used her time with Elite to get involved with the photography industry, subsequently deciding that was where her passion ultimately lay.
With a strong client base behind her, 11 years ago Ioannou decided to branch out and form her own company, where she has since worked with some of the world's biggest stars, photographers, brands and publications.
Kate Winslet, Kirsten Dunst, Drew Barrymore, Cameron Diaz, Brooke Shields, Gwyneth Paltrow and the Olsen twins are just some of the celebrities who have starred in shoots co-ordinated by Ioannou.
"Gene Hackman was hysterical," she said. "P. Diddy is just a whirlwind and I did some of Jennifer Lopez's album covers - she is a little bit of a diva.
"I did a raunchy shoot last November featuring Sting and his wife Trudie Styler with photographer Terry Richardson for Harper's Bazaar."
One of the most exciting shoots in her incredible career was with Beyonce on the New York streets.
"I had to block streets; we had police. The fans were hysterical. It was kinda crazy," she said.
Still a Perth girl at heart, she returns from her home in New York's East Village once a year for three months to spend time with her family.
"I love it here and I can recharge and switch off but really nothing compares to New York."
Source: The West Australian.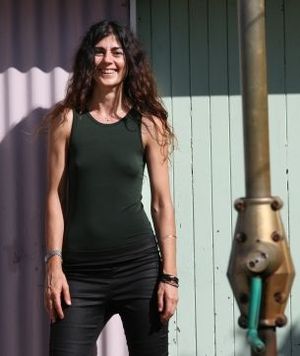 Leone Ioannou
Photo: Sharon Smith/WA News.