Lindsey Wixson on the Miu Miu shooting ad campaign with Madonna
Lindsey Wixson sur le tournage de la campagne de pub de Miu Miu avec Madonna.

Southern Belle
Ella Alexander
20 May 2011
LINDSEY WIXSON, the modelling world's biggest rising star, spoke to us exclusively about how she became the face of McQueen, having dance lessons from Madonna - and why her now famous gap-toothed smile wasn't always so positive. Since the start of her career two years ago, the Kansas-born 17-year-old has worked for fashion's biggest names, from McQueen and Miu Miu to Dior, Chanel and Prada.
- Did you always want to model? When did you first realise that it was the career for you?
"I was approached quite a few times when I was young, and that's when I first started researching it as a possible career. I remember studying old copies of Vogue and looking at how the big models like Gisele, Christy and Kate had got to where they had. I looked at their careers as a whole and what they all ended up doing now. I broke it down, and tried to work out the route they had each taken, and then tried to see how I could do the same. You can't just come from Kansas, go into fashion and be all naive. The fashion world is very different to where I'm from. I love being at home but I like learning and doing things on my own."
- What has been the most memorable part of your career so far?
"When I was shooting the Miu Miu campaign, Madonna turned up. She was supposed to be having dinner with the photographers Mert and Marcus, but they were busy shooting us, so she just had to wait. We started making the accompanying video and then Madonna stood up and said to us 'I want to see if you girls can dance'. So we started playing Musical Chairs, with her counting the beats. She said, 'It doesn't matter if you're out of time, just stay in character'. It was a brief meeting but pretty special."
Lindsey is currently represented by Storm London.

Full interview here: Lindsey Wixson
Source: Vogue UK.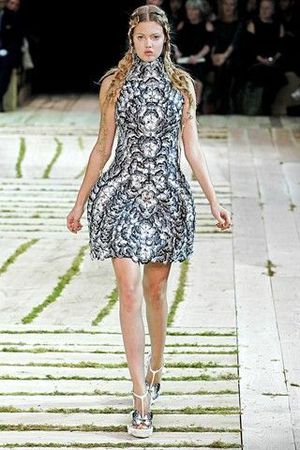 Lindsey Wixson in the McQueen spring/summer 2011 show.