Listen to Glee cover of Madonna's ''I Love New York''
Ecoutez la reprise de Glee de "I Love New York" de Madonna.

EXCLUSIVE
Vulture Premieres Glee's Take on Madonna's 'I Love New York'
5/19/11 at 1:15 PM
Glee's finale isn't until May 24, but Vulture's got a sneak peek at one of the episode's tunes right now. Mostly a take on Madonna's "I Love New York," with a blink-and-you'll-miss-it smattering of "New York, New York" (from On the Town) added to the end of each chorus (and on Glee, it's a wonderful town, not a helluva town), it features no Rachel belting, lots of pumped-up synth, and Finn singing, "If you don't like my attitude, then you can get lost" before uttering a kiss-off that was no less amusing coming from Madonna: "Just go to Texas, isn't that where they golf?" Oh, and Brittany gets a little spoken-word moment, informing us that the New Directions have "seen the Sphinx and we've seen the Cliffs of Dover," which is funny, right? Because they haven't been ANYWHERE! Anyway — bounce up and down like drunk Rachel, imagine the kids cruising through Times Square in adorably color-coordinated ensembles, and focus on Naya Rivera's continued ability to sound exactly like whichever lady singer she's covering.
Click here to listen to:
"I Love New York / New York, New York" performed by the Glee Cast.

(Also, if you're into buying things, the song is available on Glee: The Music, Volume 6, out May 23.)
Source: Vulture.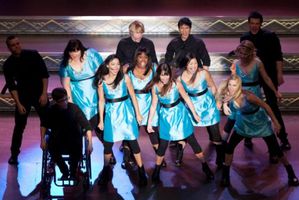 Glee
Photo: Fox.