Live Nation wants to buy Warner Music Group
Live Nation veut racheter le Groupe Warner Music.

Live Nation in bidding for Warner Music - source
Friday, April 1 07:55 pm
REUTERS
Reporting by Yinka Adegoke; Editing by Ted Kerr.
No.1 concert promoter and ticketing company Live Nation Entertainment Inc is in the running to buy the recorded music assets of Warner Music Group Corp, the world's third largest music company, according to a person familiar with the talks.
Warner Music effectively put itself up for sale in January when it hired Goldman Sachs Group Inc and AGM Partners to explore strategic options after it was approached about selling its assets.
Bids have come in valuing the whole company around $3 billion (£1.8 billion) on an enterprise value basis, which includes both debt and equity. Bids for its Warner/Chappell song publishing unit have come in at around $1.5 billion to $2 billion.
Other bidders so far include Platinum Equity, billionaire Ron Burkle's Yucaipa Co, billionaire Len Blavatnik and Sony Corp, which is specifically interested in the song publishing unit, sources familiar with the process have said.
Warner Music is home to acts including Red Hot Chili Peppers, Bruno Mars and Green Day.
Live Nation said in 2007 that it would reinvent the music business by doing away with the need to follow the traditional recorded music label model. Through 2007 to 2008 it signed major music stars such as Madonna and rapper Jay-Z to multi-million dollar, multi-year deals that included touring, merchandise and recorded music rights.
But to execute that strategy it still needed to partner with major music labels to distribute the music. Jay-Z's last album, released through Live Nation, ended up being marketed and distributed through a partnership with Warner Music.
News of Live Nation's bid for Warner Music was first reported by Wall Street Journal and the New York Post.
Warner Music shares have climbed more than 16.5 percent since Wednesday when a German newspaper reported that German media company Bertelsmann and private equity firm KKR would consider bidding between $2.5 billion to $3 billion for Warner Music.
Source: Reuters.

Live Nation Puts In Bid For Warner Recorded Music
2:40 AM 4/1/2011 by Ed Christman, Ray Waddell (Billboard)
The concert and ticketing company's offer comes after it largely abandoned plans to compete with record labels by signing superstar artists like Madonna and Jay-Z.
Live Nation, the concert and ticketing company, has put in a bid for the Warner Music Group. The emergence of Live Nation as one of the bidders for the Warner Music Group brings to three the number of strategic players involved in the auction. But unlike the other two strategic suitors, Sony Music Entertainment and BMG Chrysalis, Live Nation has only bid on WMG's recorded music operations, according to sources who spoke with the Wall Street Journal and the New York Post; the bid has been confirmed by Billboard.biz.
Live Nation chairman Irving Azoff has a long and colorful history in the record business, beginning first in artist management and then heading up MCA Records during the 1980s before launching Warner-affiliated Giant Records, which was in operation during the 1990s. Should the WMG private equity owners decide to sell the major piecemeal, that could bring Azoff back into the mainstream record business. However, such a deal would likely require close scrutiny from governmental regulatory agencies.
But its bid for WMG comes only after it largely abandoned plans to compete with record labels by signing superstar artists like Madonna and Jay-Z to 360-deals, also known as multi-rights deals; the company has said it will not sign any more artists to 360 deals.
While some speculated that Live Nation would distribute albums from the artists that it had already signed, Azoff never specified how the company would handle those records. For instance, when asked if Live Nation would issue recorded content, he told Billboard, "Live Nation prior to the merger entered into some of these all-rights deals, so there are certain artists, Madonna being one of them, [for whom] there is a recorded music strategy. Once she gets the album recorded, we'll sit down with her and her manager Guy Oseary and figure out what's best for the record. It has to start with the music."
Certainly, the acquisition of WMG would answer that question, but it seems unlikely that it was the main motivation behind Live Nation's bid. More likely, it is looking for synergies in other aspects of its business, like the FrontLine Managment operation and its direct-sales to consumers businesses.
Meanwhile, sources indicate that the WMG auction could come to a head sometime in April. Other bidders include Tamares, a private investment group headed up by Finnish billionaire businessman Poju Zabludowicz; Guggenheim Partners, a principal owner of Billboard parent company Prometheus Group; Access Industries chairman Len Blavatnik, who already holds a 2% stake in WMG; and European private-equity firm Permira; supermarket magnate Ron Burkle's Yucaipa Companies;. and private-equity firms Platinum Equity and the Gores Group, who in the past have all declined to comment or have not responded to inquiries about their involvement in the auction.
Representatives for WMG and Live Nation declined to comment.
More analysis on Billboard.biz.
Source: The Hollywood Reporter.

Azoff's Live Nation joins bidding war for Warner Music
A Warner wish
Azoff's Live Nation joins record label hunt
By CLAIRE ATKINSON
Last Updated: 2:09 AM, April 1, 2011
Posted: 1:56 AM, April 1, 2011
Impresario Irving Azoff is preparing to strengthen his grip on the music business by preparing a bid for Warner Music's recorded-music division via his debt-stressed Live Nation Entertainment, as first reported by The Post on its Web site.
Azoff, who is famous for representing acts including Christina Aguilera and whose Live Nation has a $120 million touring deal with Madonna, would gain control of a slew of Warner names including Bruno Mars, Cee Lo Green and Josh Groban as part of a potential billion-dollar transaction.
A combo would help both firms reduce their talent development outlays, one source told The Post. What's more, the deal would give Azoff the cash flow his company desperately needs. Crushing interest payments are currently eating up the concert company's balance sheet.
Live Nation's long-term debt is $1.7 billion, leaving some on Wall Street questioning how the firm could even consider such a deal. "Wall Street will kill them for this," said one source.
Live Nation ran into trouble last year when concert goers balked about high ticket prices and stayed home after the company swallowed Ticketmaster in a massive merger that was cleared by the feds.
So far that deal hasn't paid off for shareholders, who've lost some $1.25 billion in value since last April, when the stock was worth as much as $16.70.
The stock hit its low point last August, falling to $8.43. It closed yesterday at $10; year-to-date shares are off 12.5 percent.
Warner Music's recorded business has cash flow of $348 million, while Live Nation's cash flow from operating activities was $158 million at the end of 2010.
Azoff's firm, run by CEO Michael Rapino, would have to bid around $1.2 billion in order to have a chance at nabbing Warner Music, which is also being pursued by several other music companies and private-equity firms.
Warner's owner, Thomas H. Lee Partners, Boston, is looking for a large premium. If it doesn't get one, the plan is to pursue a merger with Citigroup-owned EMI.
EMI is expected to come to market now that its fiscal fourth quarter has ended. A book will be out within the next few weeks, sources said. Warner's second-round bidding is expected to close in two weeks.
One source said, "Whoever is the winner of Warner's recorded-music business, will be the winner of EMI's recorded-music business."
"It could make great economic sense for Live Nation," added one person familiar with the talks. "Warner is a much higher margin business then their core venue and concert [business] and it generates more cash flow."
Whether John Malone's Liberty Media would fund the deal remains to be seen. Liberty boosted its stake in Live Nation to 20 percent in February.
One Wall Street source said, "Live Nation is the first deal Malone did that does not have good cash flow."
Bloomberg News reported in February that Azoff and Malone were "on the prowl" for acquisitions.
Source: NYPOST.

Live Nation jumps into the bidding for Warner Music Group
March 31, 2011 | 5:27 pm
Alex Pham
Live Nation Entertainment Inc. has dived into the bidding for Warner Music Group, which now counts a dozen or more suitors.
The bid from Live Nation, first reported in the Wall Street Journal and the New York Post, is for the recorded music portion of Warner. Warner also operates a music publishing business called Warner/Chappell, whose catalog includes works by Cole Porter, Madonna, Led Zeppelin, Katy Perry and others.
The surprise offer from Live Nation puts the publicly traded Beverly Hills company in an awkward position. Its executive chairman, Irving Azoff, a veteran personal music manager, has publicly denied being interested in buying Warner. Azoff's talent management business represents a number of top recording artists, including Christina Aguilera, 30 Seconds to Mars, Van Halen and Josh Groban.
A spokeswoman for Live Nation declined to comment on the matter.
If accepted, Live Nation's proposal potentially faces serious regulatory challenges. The company went through extensive, yearlong government scrutiny when it merged with Ticketmaster. Regulators had questioned whether Live Nation, the nation's largest concert promoter, would have too much market power once it combined with Ticketmaster, the largest event ticketing service. The company ultimately prevailed, closing its merger in early 2010.
Aside from Live Nation, other bidders to buy all or parts of Warner include Sony Music Entertainment, oil baron Len Blavatnik, supermarket magnate Ron Burkle, buyout firm Kohlberg Kravis Roberts & Co. and private equity investor Platinum Equity, according to an executive knowledgeable about the offers.
Warner engaged investment banking firm Goldman Sachs to wrangle the bids late last year when it received an unsolicited buyout offer from KKR, which created a joint venture with Bertelsmann called BMG Rights Management. KKR's initial bid was increased in recent weeks to compete with more generous offers from rival bidders, said a person familiar with the bid.
Warner's board of directors is expected to whittle down the number of bids within the next several weeks and could make a final decision by the end of April, according to a person familiar with the sale process.
Source: Los Angeles Times.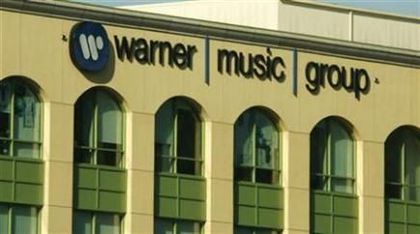 The headquarters of Warner Music Group is pictured in Burbank, California August 5, 2008.
Photo: REUTERS/Fred Prouser.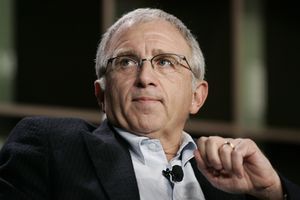 Irving Azoff