Loriot on Madonna's costumes at Gaultier exhibition: 'It's a big coup'
Loriot sur les costumes de Madonna à l'exposition de Gaultier: "C'est un grand coup".

A model curator takes on Jean Paul Gaultier
By EVA FRIEDE, The Gazette June 11, 2011
Thierry-Maxime Loriot's first professional fashion job was modelling for Burberry, with Kate Moss at his side and Mario Testino behind the lens.
Now, more than a dozen years later, Loriot is putting his best Prada-clad foot forward as curator of his first solo show: The Fashion World of Jean Paul Gaultier: From the Sidewalk to the Catwalk, opening Friday at the Montreal Museum of Fine Arts.
He brings the perspective and contacts from 10 years inside the fashion world to the show, bound to be a summer blockbuster in Montreal before travelling to Dallas and San Francisco. It features almost 130 ensembles from the Gaultier oeuvre dating from 1976, both haute couture and prêt-a-porter, augmented by animated mannequins, fashion photographs (Testino, Lindbergh and others who captured Loriot in campaigns for Armani, Lanvin, Gap and Banana Republic), sketches, film excerpts from Almodovar, Greenaway and others, concert clips from Madonna and Kylie Minogue and more.
Loriot, 34, who joined the museum three years ago after studying art history at the Université de Montréal, also produced a glorious, weighty (10 pounds!) catalogue for the exhibition, with more than 550 photos as well as essays with fashion commentators Suzy Menkes and Valerie Steele. There are also more than 50 interviews with muses and artists, including Madonna, Catherine Deneuve, Marion Cotillard, Pierre Cardin and Dita Von Teese.
This week, as workers were installing the exhibition - former model and longtime Gaultier collaborator Tanel Bedrossiantz walked by in overalls - Loriot, tall and lean in a navy Lanvin suit with burnished Prada boots, posed for photos with ease and a winsome smile.
The object of the show, he said in the café of the museum, is to allow the public an up-close view of haute couture, which only those invited to the shows in Paris or the very few clients of haute couture in the world can see. Some pieces, like a garment in leopard skin pattern, are entirely beaded in pearls, and took hundreds of hours to make. And the savoir faire for the craftsmanship is disappearing, he said, saying there is a piece of Irish crochet lace that only one person can still do.
On the question of fashion as art, there is no doubt in Loriot's mind. "When you look at corsets, the way they are made, it is like sculpture.''
He wanted to show that fashion influences art. "I come from the fashion world, so image is important to me," he said, adding that the great names in fashion photography are represented in the show.
So is contemporary art, with an image of Cindy Sherman in a corset from 1983, quite a spectacular and memorable image, he said.
Gaultier's collaborations in cinema and dance are also represented. "Fashion is part of the art,'' he said.
Many museum shows are brand funded, like the Dior show at the Pushkin Museum in Moscow on until July, Loriot pointed out. "It's more like an advertising campaign than a celebration of creativity."
The Montreal Gaultier show is 100 per cent funded by the museum.
Gaultier collaborated, allowing access to his archives. Loriot went through about 150 collections, with perhaps 60 pieces each, as well as more than 5,000 images to curate the show and choose the 550 photos in the catalogue.
There is something for every interest in the show, Loriot said. In each of the six themes - the Odyssey of JPG, Boudoir, Skin Deep, Punk Cancan, Urban Jungle and Metropolis - there are garments, but also sketches, photos and stage costumes.
Madonna lent her entire collection of Gaultier costumes, to be seen together for the first time. "It's a big coup," he said.
A gold lamé corset of 1930s fabric worn by Madonna is among his favourite items in the show. "It shows how stage costumes are alive. She sweats a lot on stage because of the choreographies. Now it's a bit greenish because of the sweat and mix of metal fabrics."
He also recommends a close look at the leopard print dress, entirely beaded in pearls, with claws of crystal, from the 1997-98 fall haute couture collection. It took hundreds of hours to craft.
The show is very much a portrait of society, he said. Gaultier took his first influences from the street, particularly the punk movement of London. He would visit Vivienne Westwood and Malcolm McLaren's shop on the King's Road, Loriot recounted, taking cues from there from the bondage and vinyl, which always had a couture aspect.
"His fashion was very inclusive,'' Loriot said. "There is a very strong social message in Gaultier's world. He mixes and matches cultures.
"It was a prophetic vision of modern society.''
Gaultier also defied norms of beauty, using street girls with attitude rather than stereotypes, and welcomed gender-bending. "He showed his skirts on masculine men with muscular legs, because he thought it was sexy."
What the show tells us about Gaultier is "everything - all his obsessions through the years."
"It's a very generous message through fashion,'' Loriot said. "Everybody can wear Gaultier, everybody can have access to Gaultier. You can try to recreate your own Gaultier look."
The Fashion World of Jean Paul Gaultier runs June 17 to Oct. 2 at the Michal and Renata Hornstein Pavilion of the Montreal Museum of Fine Arts, 1379 Sherbrooke St. W. $15 for adults 26 to 64, with reduced rates Wednesday evening and for students and seniors.
Source: The Montreal Gazette.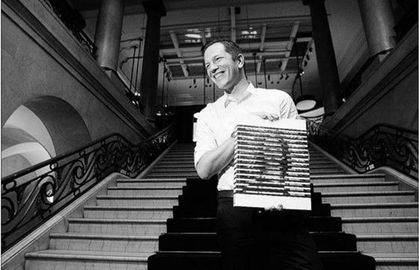 Curator Thierry-Maxime Loriot shows off his catalogue for the Jean Paul Gaultier exhibition at the Montreal Museum of Fine Arts, opening Friday, June 17.
Photo: Marie-France Coallier, The Gazette.