Madonna among the 10 Awesome Benefit Show Performances with Live Earth
Madonna parmi les 10 meilleures performances de concerts de charité avec Live Earth.

Live Aid 25th Anniversary: 10 Awesome Benefit Show Performances
by Gabriella Landman and Melanie Fried | July 13, 2010 3:53 EDT
Twenty five years ago today (July 13), more than 50 artists across two continents united for the Live Aid benefit concerts, organized by UK musicians Bob Geldof and Midge Ure to aid famine relief efforts in Ethiopia. The event touched the hearts (and wallets) of fans across the globe, as an estimated audience of two billion tuned in to their radios and televisions to witness performances by the era's biggest acts and rock out for a cause.
In honor of the Live Aid concerts, we look back at 10 of the most memorable benefit concert performances in history, ranging from star-making sets from U2, Bruce Springsteen and Jimi Hendrix, to poignant, once-in-a-lifetime turns from Paul McCartney, Sting and Pink Floyd.
Live Aid 25th Anniversary: 10 Awesome Benefit Show Performances
1- U2, Live Aid, July 13, 1985
2- Pink Floyd, Live 8, July 2, 2005
3- Bruce Springsteen, No Nukes, September 22, 1979
4- Madonna & Gogol Bordello, Live Earth, July 7, 2007
5- Sting, Secret Policeman's Other Ball, September 9, 1981
6- George Harrison, Concert for Bangladesh, August 1, 1971
7- Queen, Live Aid, July 13, 1985
8- Jimi Hendrix, Monterey Int'l Pop Festival, June 18, 1967
9- Paul McCartney, Concert for New York City, October 20, 2001
10- Justin Timberlake and The Rolling Stones, The SARS Benefit Concert, July 30, 2003
Madonna & Gogol Bordello, Live Earth
July 7, 2007
The 2007 Live Earth concert series aimed to raise awareness of environmental issues throughout the world, with performers as diverse as Foo Fighters, Black Eyed Peas, and Metallica on the bill. At the London branch of the show, Madonna - who cut her benefit-concert chops at both 1985's Live Aid and 2005's Live 8 - brought out New York gypsy-punk band Gogol Bordello for an unexpected collaboration. The group contributed energetic violin and guitar strumming to a vibrant rendition of Madge's '80s hit "La Isla Bonita," which wowed the crowd at London's Wembley Arena.
Source: Billboard.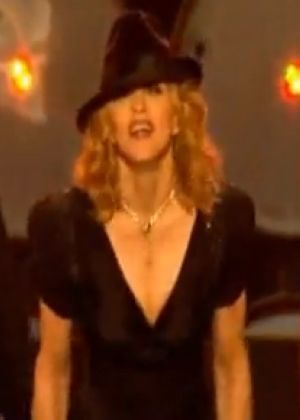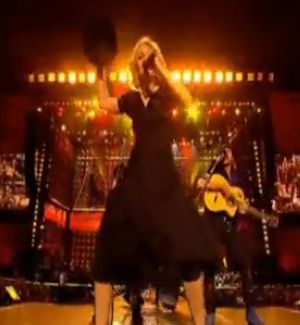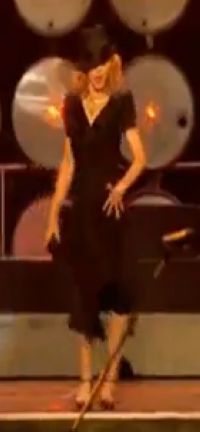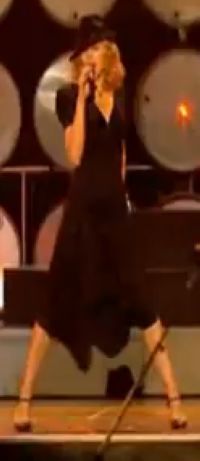 Madonna at Live Earth