Madonna and Abbie Cornish on the set of ''W.E.''
Madonna et Abbie Cornish sur le tournage de "W.E.".

Abbie Cornish shows up a Material Girl
The Daily Telegraph September 14, 2010 11:30PM
Abbie Cornish cuts a fine figure next to a less-than-glittering Material Girl on the set of their historical flick W.E.
Madonna looks positively frumpy in a grey cardie, scarf and messy ponytail as she puts Cornish through her paces on the streets of New York.
Filming has moved from France to Britain and more recently, the Big Apple as Madonna, 52, emerges as a perfectionist in her directorial debut.
She reportedly took three hours to shoot a 10-second bath scene with Cornish, causing headaches for cast and crew. The controversial film portrays King Edward VIII's relationship with American socialite Wallis Simpson.
Source: Adelaide Now.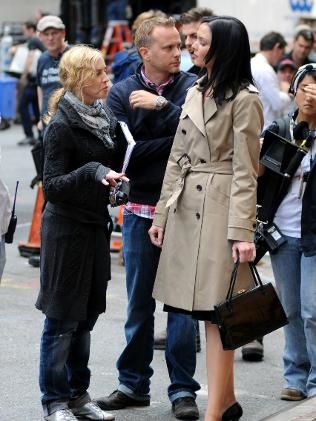 On the set ... Madonna and Abbie Cornish.
Photo: Picture Media.