Madonna and Gwyneth Paltrow are rumoured to use Callanetics
Rumeur: Madonna et Gwyneth Paltrow utilisent Callanetics.

Madonna and Gwyneth Paltrow are rumoured to use Callanetics - and the exercise is set for a comeback
Callanetics exercise craze returns after 1980s heyday after rumours Madonna and Gwyneth Paltrow use it to defy age
By Hannah Roberts
Last updated at 1:29 AM on 19th March 2011
It went out with leotards, shoulder pads and frizzy perms.
But Callanetics – the 1980s exercise sensation which promised to make you look ten years younger in ten hours – is making a comeback.
The resurgence has been fuelled by celebrity trainer Tracey Anderson who incorporates it into her routines.
Callanetics is even rumoured to be the secret behind Madonna and Gwyneth Paltrow's age-defying bodies.
Followers claim that the lifting and tightening effect of one hour of the U.S. fitness fad is equal to 20 hours of aerobics. But thousands of once-loved Callanetics video cassettes have been gathering dust for more than two decades.
Now trainers have noticed a 35 per cent surge in class take-up in some parts of Britain over the past three years.
Experts estimate that there are now 1,000 regular students and classes at ten sites around the UK.
And a DVD, Callanetics: Evolution, will introduce the moves to a generation who cannot even remember the days before VHS. By using small movements known as pulses, the body's deepest largest muscles are activated. Instructor Julia Mellor claims: 'By activating these major muscles you go straight to the source of toning the body for a good figure.'
And trainer Karin Mackenzie insists you feel the difference 'from the first session', adding: 'It smoothes out cellulite and has a lifting effect on the bottom.'
The micro-movements were invented by American Callan Pinckney from classical ballet exercises to help ease a back problem she was born with, and had a powerful sculpting effect on the body.
Her book is a bestseller and her video remains in Amazon's top 1 per cent of U.S. DVD sales. Callanetics: Evolution DVD is launched at next week's Vitality Show at Earls Court.
Source: Mail Online.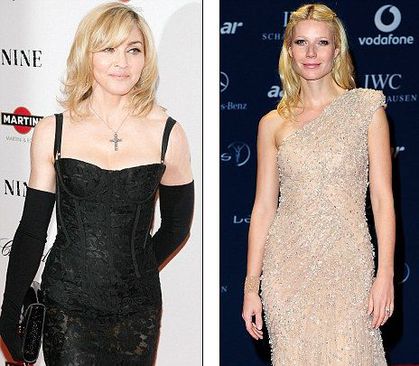 Madonna and Gwyneth Paltrow