Madonna and Gwyneth Paltrow ignored each other at Wireless Festival
Madonna et Gwyneth Paltrow 'alimentent les rumeurs de dispute': elles se sont ignorées au Festival Wireless.


Madonna, Paltrow 'fuel rift rumours'
Tuesday, July 6 2010, 09:03 BST
By Daniel Kilkelly, Entertainment Reporter
Madonna and Gwyneth Paltrow have reportedly fuelled rumours of a feud by ignoring each other at the Wireless Festival on Sunday.
According to The Sun, the pair were both present for Jay-Z's set at the music event but had no contact for the duration.
It is thought that the pair avoided each other by choosing separate VIP areas to watch the gig from. Madonna is understood to have stood at the side of the stage alongside partner Jesus Luz and daughter Lourdes, while Paltrow apparently watched elsewhere in the company of Beyoncé.
Last month, reports claimed that Madonna and Paltrow had ended their friendship following a heated row. The rumour came after Paltrow made a veiled comment in a magazine interview about how she felt "angry" over a problem she was having with a friend.
Representatives for both parties later denied talk of a fall-out, insisting that the pair were "still friends".
Source: Digital Spy.

Madonna and Jesus Luz kiss passionately as they watch Jay-Z at Wireless Festival
By Mail Online Reporter
Last updated at 5:13 PM on 5th July 2010
When they started dating nearly two years ago, nobody thought it would last.
But last night, Madonna and Jesus Luz showed their relationship is stronger than ever as they enjoyed a passionate kiss while watching Jay-Z perform at Wireless Festival.
The 51-year-old star looked trendy in a leather jacket and grey fedora hat, while 23-year-old Brazilian model Jesus went for the casual look in a black shirt, as they arrived at the Hyde Park music event.
Madonna and Jesus first met on a photoshoot for W magazine and quickly started dating.
But while their relationship was widely criticised due to their 28-year age gap, Jesus said it was never an issue for them.
Describing their first meeting recently, he explained: 'I believe in the force of attraction. It was two energies that met, two minds that connected.'
And the couple appeared in a world of their own last night, apparently not caring who saw them as they embraced in the VIP area.
Madonna and Jesus were also accompanied by Madonna's 14-year-old daughter Lourdes, who looked fashionable in a blue jumper as she watched Jay-Z's performance while standing with friends.
Other celebrity guests watching the American rapper's headlining act at the closing night of the festival included his wife Beyoncé and close friend Gwyneth Paltrow.
Harry Potter actor Rupert Grint, Sadie Frost and Amy Winehouse were also spotted backstage throughout the day, which also saw a performance from pop princess Lily Allen.
Source: Mail Online.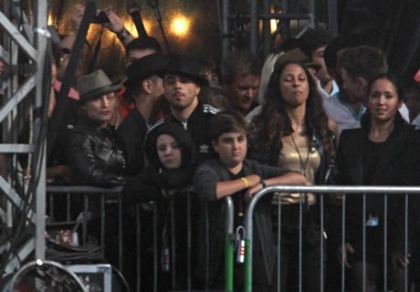 Madonna


Gwyneth Paltrow