Madonna and her children board their private jet in Paris
Madonna et ses enfants montent à bord de leur jet privé à Paris.

Madonna and her 'momtourage' of Lourdes, Mercy, Rocco and David board their private jet in Paris
By Daily Mail Reporter
Last updated at 9:52 AM on 3rd August 2010
When you've four children to keep track of, it's not easy to get organised for a trip.
So Madonna needed a little help to get her brood aboard a private jet at Bourget airport in Paris today.
Among the group were daughters Lourdes, 13, and Mercy, 5, and sons Rocco, 9, and David, 4.
Madonna has been in the south of France directing scenes for her upcoming film W.E, a romantic drama about the love affair between Edward VIII and Wallis Simpson.
The 51-year-old has been working on the movie since making her directorial debut with Filth and Wisdom in 2008.
'It's been kind of an obsession of mine," she told Interview magazine.
'It was actually an idea I had before that, but I made Filth and Wisdom because I realized that I didn't really have a right to make a bigger film until I made a smaller film - and learned how to make a film.'
The film is due to be released in 2011.
As the Queen of Pop worked on Sunday, the children enjoyed a day out at the Jardin des Tuileries amusement park accompanied by the family nannies.
They were spotted on the dodgems, bungee swing, shooting gallery and motorbike themed merry-go-round.
Source: Mail Online.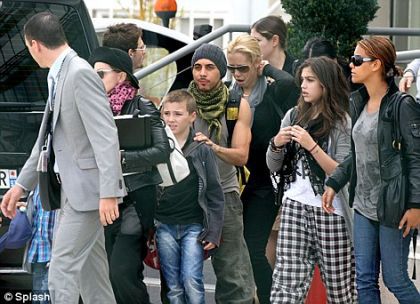 Mum's in charge: Madonna, in the black hat on the left, leads Rocco (who has short cropped hair) and Lourdes (in check trousers) on to the tarmac at the airport in Paris.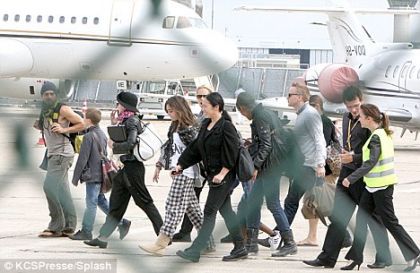 Jet-set: Madonna and her brood board a private jet at Bourget airport after spending the weekend in France.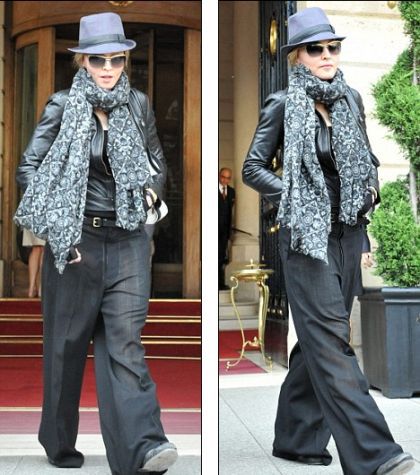 Artistic flare: Madonna certainly wears the pants as she leaves her hotel in Paris on Saturday.