Madonna and Jean Paul Gaultier: Fashion's 26-Year-Old Love Affair
Madonna et Jean Paul Gaultier: Une Histoire d'Amour de 26 Ans dans la Mode.

Mar 31 2011 06:30 PM ET
Justine Harman
With a new collaboration popping up every day, few designer-celebrity partnerships withstand the test of time. An exception to the rule is Jean Paul Gaultier, who, with a traveling exhibit and corresponding tome, reveals a lifelong liaison between style and pop culture. Did you know that the designer catapulted to fame in the late '70s with a collection inspired by Grease? Or that before dressing stars like Rihanna and Nicole Kidman, he played wardrobe stylist to Kurt Cobain, Flea from the Red Hot Chili Peppers and Cameo? Exhibit curator Thierry-Maxime Loriot tells PEOPLE that Gaultier pulls inspiration from television, film, music and yes, real people. It's this very aesthetic that upset fashion traditionalists so many years ago. "He destroys the notion of elegance. It's street fashion that I see all the time outside the windows of my atelier," designer Claude Montana lamented to PEOPLE in 1985. A year later, Madonna first wore Gaultier's designs to the premiere of Desperately Seeking Susan, and a legendary partnership was born. The duo went on to collaborate on costumes for the pop sensation's Blonde Ambition tour in 1990, the Confessions tour in 2006 and countless other occasions. Footage from the 1985 film premiere foreshadows their mutual success. A reporter asks, "What do you think of the way Madonna is dressed tonight?" The crowd roars with overwhelming approval.
Source: People.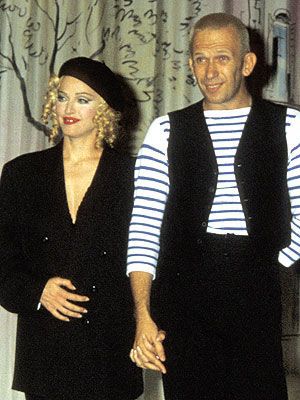 Madonna and Jean Paul Gaultier