Madonna and Jesus Luz in the Maldives Islands for the New Year's Eve
Madonna et Jesus Luz aux îles Maldives pour le réveillon 2009.

06/01/10 - 10h41 - Atualizado em 06/01/10 - 10h43
Madonna e Jesus Luz passaram o réveillon nas Ilhas Maldivas
Segundo jornal, o casal teria desistido de ir para St. Barths após perceber a presença de paparazzi na ilha caribenha.
Do EGO, no Rio
Madonna e Jesus Luz passaram o ano novo nas Ilhas Maldivas. O primeiro destino escolhido pelo casal era St. Barths, no Caribe, mas segundo a coluna "Página 3" do Jornal "O Dia", eles teriam desistido após verem as fotos de Marc Jacobs e Lorenzo Martone tiradas por paparazzi.
A cantora reuniu seus filhos, o namorado brasileiro e o fotógrafo Steven Klein em um resort de luxo, ao lado de Gwyneth Paltrow.
As fotos do mergulho de Jesus, que a assessoria não tinha divulgado o local, foram tiradas na Ilha. Aliás o modelo volta ao Brasil na próxima semana para desfilar na São Paulo Fashion Week.
Source: EGO.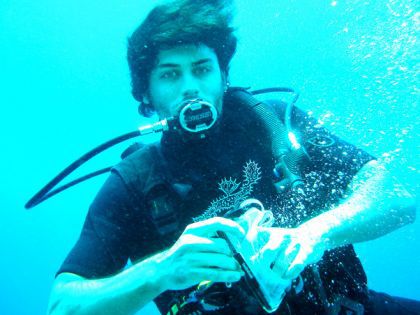 Jesus Luz mergulhou nas Ilhas Maldivas.