Madonna and Jesus to go to Lourdes in France on August 16, 2010
Madonna et Jesus vont aller à Lourdes en France le 16 août 2010.

Madonna and jesus plan Paris pilgrimage
By 3am 31/07/2010
You couldn't make it up... As an, er, testament to his love for Madonna, Jesus Luz is whisking her off to Paris - with a trip to Lourdes thrown in.
The Brazilian male model is treating the veteran singer to a short break in the romantic capital to celebrate her 52nd birthday on August 16.
And he's also arranging for them to make a daytrip to the small market town of Lourdes - famous for its visitations from Our Lady, and the name Madonna gave to her daughter.
There won't be too much travelling involved, though. The Hard Candy star is currently in the south of France, working on the movie W.E, which focuses on the affair between King Edward VIII and American divorcée Wallis Simpson.
Our insider reveals: "Madonna's got a few weeks off before she continues working on her latest movie project and prepping for her world tour. It's her birthday next month and Jesus wanted to do something special for it.
"Madonna may wear the trousers in their relationship and be the main breadwinner, but he wanted to assert his authority over this.
"Jesus was adamant that he would pay for everything and has planned a really romantic three days.
"As well as sorting out a romantic candle-lit dinner for them in the famous Hotel George V, he has also arranged a pilgrimage to Lourdes.
Obviously that town is significant to Madonna as it is what she called her teenage daughter."
Our source adds: "After a few recent problems and rows, things are going really well between the couple. Jesus is smitten with his lady." Bless.
The 28-year age-gap doesn't seem to bother the couple who have been dating for almost 18 months after meeting on a raunchy photoshoot for an American magazine.
In previous years Madge, who divorced Snatch director Guy Ritchie two years ago, has thrown lavish parties to mark her birthday. But it is understood she wants to spend this one quietly with Jesus. Amen to that..
Source: Mirror.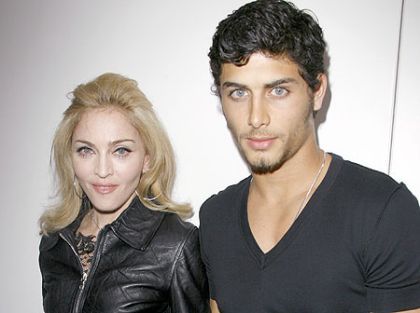 Madonna and Jesus Luz