Madonna and Lourdes in special trouser leg look on set of ''W.E.''
Madonna et Lourdes dans un look très spécial sur le tournage de "W.E.".

Has Madonna joined the Masons? Star rocks bizarre rolled-up trouser leg look on set of her latest film
By Jody Thompson
Last updated at 1:57 PM on 9th August 2010
Madonna had onlookers flummoxed yesterday when she sported one of her wackiest fashion looks yet.
The star was on the streets of London directing her new movie W.E. with one trouser leg rolled up, showing off knee-high golf socks underneath.
Freemasons have to roll up one trouser leg as part of their initiation ceremony, though it's unlikely that the 52-year-old star has abandoned Kabbalah for the all-male society...
The one-legged style is also popular amongst black gang members and hip hop fans in the US, as it's supposed to be symbolic of losing the shackles that their slave ancestors had to wear.
In Britain, it's become popular amongst hoodies to show that they have no police ankle tag, presumable because they are so tough that they are always getting stopped by the police.
For the Material Girl however, her lop-sided look was probably more to do with having to ride a bike to get between locations on the shoot.
Nevertheless, she still inspired daughter Lourdes to rock the uneven fashion theme, as she turned up on set wearing tights that had one black and one white leg.
She watched from the sidelines with her dad Carlos Leon and siblings David, Rocco and Mercy.
Meanwhile, mother-of-four Madge is reportedly suffering from a nasty cold and considering she is also currently auditioning dancers for her next tour, it's no wonder she looked a little bit drained as she tackled her directorial feature debut.
The movie, starring Bright Star actress Abbie Cornish, is a romantic drama focusing on the affair between King Edward VIII and American divorcée Wallis Simpson, spliced with contemporary romance between a married woman and a Russian security guard.
Ms Cornish plays Wally Winthrop, a young married New Yorker in 1998 who is obsessed with what she perceives as the ultimate romantic love story, King Edward VIII's abdication for his love of Wallis Simpson.
Andrea Riseborough, who recently played Margaret Thatcher in The Long Walk To Finchley, has been cast in the role of Mrs Simpson, with James D'Arcy from Secret Diary Of A Call Girl as Edward VIII.
The movie also stars British acting legend James Fox as King George V, and The Tudors star Natalie Dormer as Elizabeth Bowes-Lyon, aka the Queen Mother.
It is no surprise the star is taking her role very seriously. Her first foray into film, in which she directed a segment of Filth and Wisdom, was universally panned by the press and met with derision at Berlin Film Festival in 2008.
Let's hope W.E. receives more praise - and that she pulls her trouser leg down.
Source: Mail Online.



Madonna was spotted carrying out her directing duties with one trouser leg rolled up like a Freemason.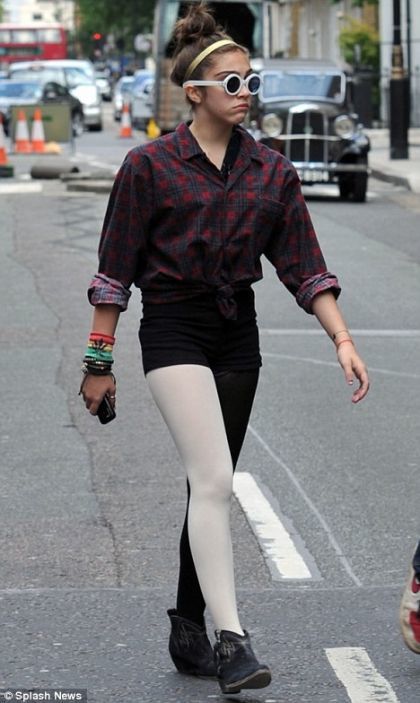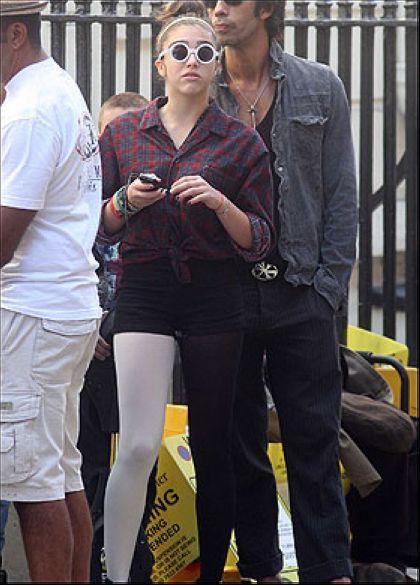 Who's that girl?: Madonna's daughter Lourdes rocks the odd-legged look just like mum on the movie set.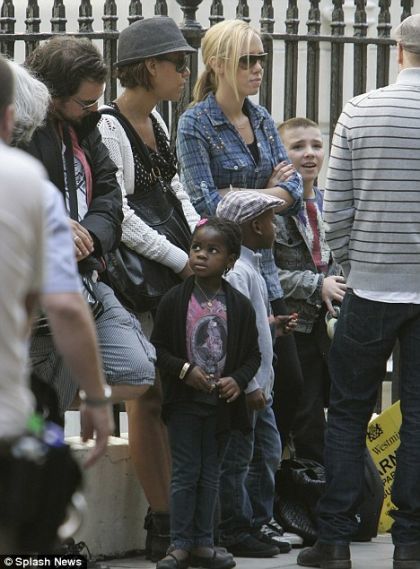 Family affair: Mercy, David and Rocco watch mum from the wings with some of her friends.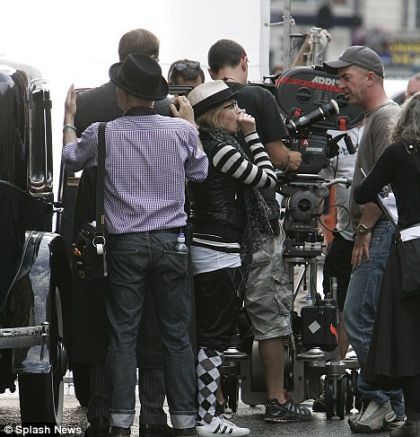 Lights, camera, action: The star gets behind the cameras for once.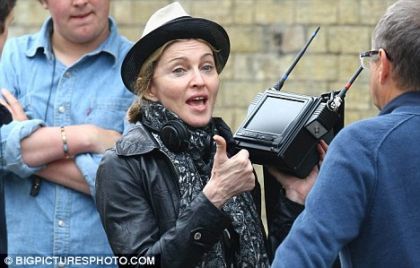 Hands on: The Material Girl was rushed off her feet directing the stars and extras of W.E.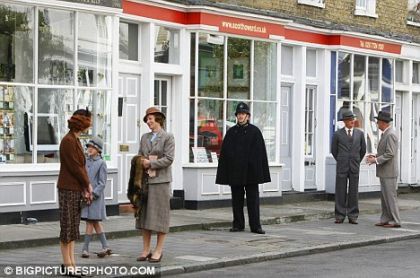 The singer's second directorial offering appears to be set in 1940s Britain.