Madonna and Lourdes wearing D&G at the NY premiere of 'Nine'
Madonna et Lourdes portent D&G à la première à New York de "Nine" le 15 déc. 2009.

Madonna & Lourdes show it's a family affair
Dec 16, 2009
Madonna and Lourdes attended Nine's NY premiere last night. Holding hands for the camera, it seems there's something about the film that brings out the sisterhood even from the A-list...
Earlier this week Swide spotted Penelope Cruz and Kate Hudson on the red carpet showing the world some serious sisterhood. Exhausted by backstabbing and Machiavellian networking its refreshing to hear tales from Nine's set that don't involve diva-like behaviour. Last night the love continued as the usual red carpet scenes of actresses jostling for limelight were replaced instead by mother and daughter scenes - abeit A-list ones.
The Nine cast were on the red carpet just hours after they heard the film had received five nominations at the Golden Globes. Nine is up for Best Motion Picture (Musical or Comedy), Best Original Song, with three acting nominations for Daniel Day-Lewis, Penelope Cruz and Marion Cotillard.
Source: Swide Magazine.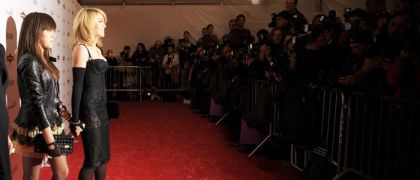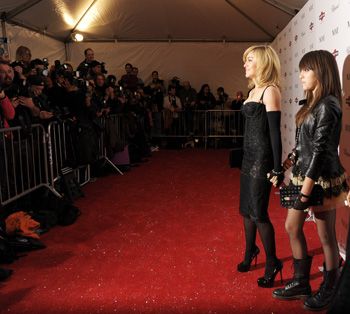 Madonna, the new face of Dolce & Gabbana is featured above in a D&G black lace corset dress from the 2010 cruise collection. Lourdes is wearing a Dolce & Gabbana raffia and black lace skirt and top from the spring/summer 2010 catwalk show - New York Dec 15th.
Photos: Getty Images.