Madonna and the Las Vegas deal: Analysis
Madonna et le contrat pour Las Vegas: Analyse.

NORM: Tabloid: Madonna checks Vegas deal
Aug. 21, 2010
Norm Clarke
So what are we to make of the British tabloid report that Madonna is mulling a five-year $1 billion Las Vegas deal?
Let's start with the numbers. They don't work, a local entertainment agent told me Friday.
If, at age 52, she is indeed is being courted by a Las Vegas casino, "I guarantee that number is double inflated," the source said.
Perhaps we should consider the source: the story appeared in the London daily, The Sun, a tabloid known for its sensational twists.
My source did some quick math: If Madonna landed in the 4,300-seat Colosseum at Caesars Palace, the most likely suitor, she would have to average $200 a ticket, net $3 million a week and work four or five nights for 50 weeks to make $750 million over five years.
"That's impossible. She's not going to work 50 weeks," said the source.
Celine Dion, one of the best-drawing entertainers in the world, recently announced a new three-year $100 million deal that calls for 70 shows a year.
Celine's tickets for her five-year run (2003-2007) at Caesars Palace averaged about $135. All of Garth Brooks' tickets at Wynn Las Vegas are locked in at $125 for his five-year deal.
Then there's the Material Girl's comment a few years ago when asked if she would be interested in a resident headliner deal in Las Vegas similar to Celine's.
"That's insane," she was quoted as saying. "I hate Las Vegas. I couldn't bear it for five minutes."
But history tells us time and money are known to change attitudes.
It would come as no surprise if Madonna is being pursued by Las Vegas interests. In a city desperate for more starpower she could be a game changer, our Lucky Star.
Source: Las Vegas Review-Journal.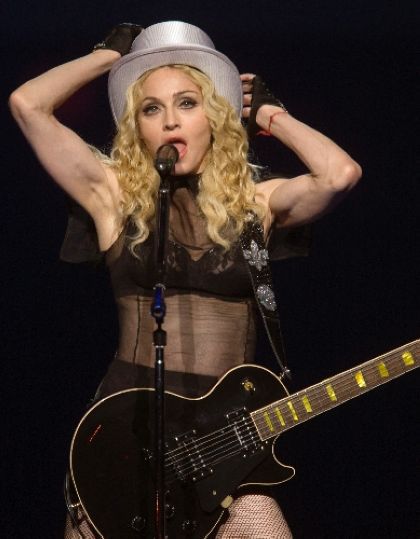 Madonna is considering a $1 billion Las Vegas deal, according to a London tabloid.
Photo: THE ASSOCIATED PRESS.